Coming out of France, NPlug launches an Indiegogo campaign today seeking $110,000 to bring their innovative electricity monitor to the market.
NPlug plugs in between your wall outlet and any appliance, monitors electricity usage and makes that data available online or on your smartphone.  Best of all, the operation of the connected device can be automated with the NPlug attached.  It is the latest green home tech to turn to crowdfunding in an effort to test the market and leverage the crowd for funding.
Inouk Bourgon (@inoukb), the creator of the NPlug,  got the idea for the NPlug after working on similar projects for the B2B space.  He said, "We wanted to connect regular electrical appliances to the internet and automatize their behavior so they can either save power or gain additional functionality. We've been working on such projects in B2B context, but we think it can also be of interest for end users."
He is looking to the crowd for more than just money.  He said, "Crowdfunding gives exposure to a product at an early stage. It's an opportunity to get our first customers and gather their feedback before final design is reached. Even if we don't expect all of our backers to be involved in the remaining decisions we hope to be able to build a collaborative design approach with some of them."
Indiegogo became an obvious platform choice as Kickstarter has now banned all home improvement related projects from their offerings.  Add the NPlug to a growing list of products that couldn't find a home on one of the Internet's most popular crowdfunding platforms.
Consumers can expect to generate insights into how they can limit their electricity bills.  Mr. Bourgon points to cable boxes and refrigerators as two appliances that may be ripe for attention.  Cable boxes can be turned off when not in use, and power-hungry refrigerators may operate more efficiently after being cleaned or after a visit from a maintenance technician to top off fluids.
Appliances with an attached NPlug unit don't just log statistics on consumption. They can also be turned on or off from your computer or your smartphone.  The unit itself also measures ambient temperature for increased insight into how heating- and cooling-related appliances are running.
As far as what consumers can expect from the NPlug, Bourgon shared the following: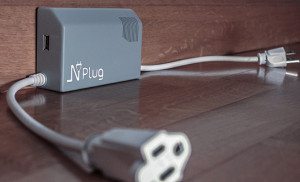 "You can save up to 10% on your electricity bill, but it really depends how you'll be using NPlug. If your main interest in NPlug is to save money, our advice is to first to map power consumption of your different appliances. Studies have shown that being aware of your actual consumption is the only way to start changing your behavior towards savings. Then if you want to increase savings you should keep NPlug connected to a device for which automation will save a lot of power. Those devices are usually heat or cooling related.  That's why we included a probe to measure temperature. We are also introducing a limitation algorithm that will allow to limit power consumption to a fixed amount of money. And we have a lot of other savings algorithms in mind!"

Being a consumer product offering, contributors may be wary of throwing their money in the ring.  The NPlug team plans on tackling this issue head on.  "We've been following a lot of crowdfunding campaigns and we were always quite disapointed by the level of communication the teams had with their backers," Bourgon shared.  "At NPlug we commit to give an update each week, whether it's just to explain what we're working on, or to submit a web interface design or to explain a technical aspect of the product."

What do you think?  Will the NPlug have a successful raise?  Could you see yourself using it around the house?  Let us know in the comments.

Have a crowdfunding offering you'd like to share? Submit an offering for consideration using our Submit a Tip form and we may share it on our site!

Sponsored Links by DQ Promote