For all of those Apple Fanboys and Fangirls out there – now is the time to purchase iPhone stocking stuffers and Apple gifts from the Crowdfund "Santa" to satisfy every Apple geek's need for gadgets.  I know because I qualify.  If you are anything like me, my house (and car) are scattered with chargers, blue tooth speakers, cords etc.  I am always on the look out for something cool – and perhaps not totally necessary – to add to my collection.  So yeah I know.  Many of these products won't make it under this years Christmas tree since they will need to be funded to be produced.  But look at it this way.  You can help a budding entrepreneur crowdfund his business and satisfy that gadget fix in one fell swoop.  Put it in an envelope and wait in anticipation…
So today since the iPhone is the coolest phone out there let's start with some hot gifts for the Apple lover in y0ur life:
WakaWaka Power: The Best Compact Solar Power Station and Light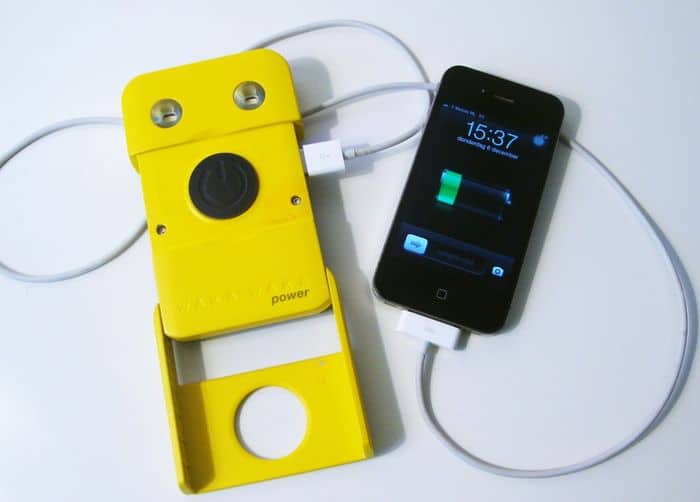 Did I mention I have chargers everywhere?  In the car, office, bedroom, backpack.  You name it.  My morphie has just been put out to pasture since I now have the iPhone 5.  So what do I really need?  A personal Solar Power Station – of course.  The WakaWaka is on Kickstarter for 25 more days.  It has already pegged 1,338 backs and is far in advance of its stated goal of $50,000.  As of today WakaWaka has hit $83,911 in pledges.  As described by Team WakaWaka:
The WakaWaka Power is a pocket size mini power station with super efficient solar cells and a power management system which ensures efficiencies which are up to 200% better than any other product in the market.  Apart from charging your smart phone, WakaWaka Power is also a light source which can provide you with more than 40 hours of excellent reading light (on a single day solar charge!).
Something else I am compelled to point out.  It works on Android devices too…
Cost: Minimum of $59 (Late Bird Edition)  Act Fast $49 price point is sold out!
Gotta Know:  Yep. It works with Android devices too.
iPhone Dock for iMac & Apple Displays – The OCDock
This kickstarter hits you with the high beams.  Out of the gates the accolades cascade like Niagara Falls;  Slashgear, Mashable, Cult of Mac, TUAW, Those guys at Giz (Deutschland) … The simplicity, minimalist aesthetics, utility and sheer elegance.  I think Jony Ive just swooned.
This is another offering which has surpassed the stated goal.  5 Days to go a target of $49,000 has been trumped by $83,000 in pledges.
WAIT! YET ANOTHER IPHONE DOCK?

No. This is not just another iPhone dock. While most docks need to first invent the problems they attempt to solve, the OCDock focuses on nailing the most irritating problem that keeps on hindering your everyday productivity and peace of mind. Did you already guess what it is? The clutter that comes with having a regular docking station on your desk. 
Cost: $55 (Later to retail for $79) Act Fast!  Only 5 days to go!
Gotta Know: Works with  iPhone 5 AND iPhone 4, 4S.  Special Gift with Holiday Bundle
JustMount:  The Ideal Wall Organizer for iPhone & TidyTilt+
Since the iPhone can't quite levitate as of yet (rumor is levitation arrives with iPhone  6) using magnets is the next best thing.  Why just drop your iPhone on any nightstand, counter top or table when you can prominently display it on the wall like the fine art that it truly is?  Well for those of you that have been struggling with that paradox your answer has arrived.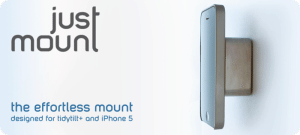 JustMount lets you magnetically tack your iPhone almost anywhere, elevating it from clutter on counters and desks. With JustMount, you'll always have a handy spot for important items.
Combined with our new TidyTilt+ Case for iPhone 5, JustMount enables effortless and secure mounting on walls, cabinets, mirrors, desks, cubicles, windows, and more. 
42 Days to go on this one.  $5,999 pledged on a $10,000 goal.
Cost: $29 (Later to retail at $35)
Gotta Know:  Ok.  It is just a magnet.  Keys, Pens .. anything metal.  It works.
GILD Design:  Solid Bumper for iPhone 5
I wish I could carry my iPhone without a bumper.  I really don't like to hide the clean lines and great design.  But like most people the phone gets dropped .. daily.  Truth be told I have been through more iPhone covers than actual phones. While many do protect from less than graceful moments it is still a shame to hide the clean look of metal and glass.  Finally here is a bumper that earns it guardian role with the iPhone.  Sure there are other metal bumpers that look pretty cool.  But read the specs on this one: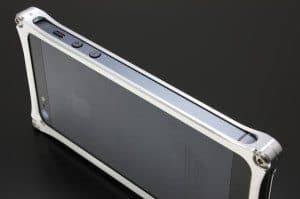 The drop test was performed in accordance with MIL-STD-810G which is an United States Military Standard. It requires continuous drop onto each face, edge and corner for a total of 26 drops from a height of 1.2 Meter.
In order to make lighter and stronger iPhone5 solid bumper, it is CNC machined from solid billet of aircraft grade aluminum alloy which is called duralumin A2017S (produced by HURUKAWA-DENKOU) and finished by hard anodize.
20 Days left to go on this Indiegogo offering.  Only $90 raised.  $20,000.00 (no risk)

Gotta Know:  Very Cool Japanese design.

If you have a favorite Apple device which is being crowdfunded now or soon to be crowdfunded – please reach out to us and share at [email protected]  Happy Holidays to all!

Have a crowdfunding offering you'd like to share? Submit an offering for consideration using our Submit a Tip form and we may share it on our site!

Sponsored Links by DQ Promote