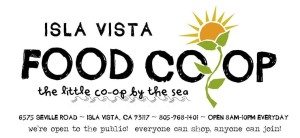 The I.V. Food Co-op became the first cooperative in history to use crowdfunding to purchase its property. More than 1,000 people contributed to raise $200,000 for a down payment to purchase the building, securing its future in Isla Vista for generations to come.
In October 2012, the I.V. Food Co-op was notified of the pending sale of their property of 32 years.  Due to the gentrification of Isla Vista, the threat of losing the building to a larger grocer became a reality.  The I.V. Food Co-op General Manager, Melissa Cohen, knew there was no choice but to purchase the property to secure the future of the cooperative forever.  She secured financing to meet the $1.625 million asking price, but still needed to raise $200,000 for a down payment on the loans.
To reach the $200,000 goal, Cohen, and campaign manager, Abby Wolff, launched a crowd funding campaign, "Project We Own It," asking community members to pull together to preserve the invaluable community resource. The effort proved to be a tremendous success. Over 75 volunteers, most of whom are students at UCSB, rallied the community around benefit events and an online pledge platform to successfully raise the down payment, and purchase the I.V. Food Co-op.
"A lot of people told us this was impossible, but we never doubted for a second that a strong community will always support the greater good," said Wolff.

The Isla Vista Food Cooperative, a community-owned business, began 40 years ago in the creative aftermath of students burning down of the Bank of America.  Located in the college town adjacent to the University of California, Santa Barbara, the cooperative has come to represent conscious consumption, ethical business and sustainable living for students and Isla Vista residents, serving as a hub of education, and a cornerstone of a vibrant, tight-knit community. For many in this community, the I.V. Food Co-op is the sole access to local, organic, and natural food.

During the campaign, Cohen explained, "We're truly taking it to the community.  If they want to have a food cooperative, the money will come.  If the community does not care, the business will fall through the cracks.  Either way, it is exciting to have the future of the I.V. Food Co-op in the hands of this community.  If we succeed, we will make worldwide cooperative history."

Sponsored Links by DQ Promote