When it comes to crowdfunding, social media tends to get all the attention as a means of marketing your campaign. However, email marketing can be an even more effective tool for acquiring contributors or investors when used correctly.
There is a strong correlation with an email strategy and our data indicates that email is usually 5 times more effective than a FB status update or Tweet. There are outliers which allow the social media messaging to carry through new networks, but for most users, email is still tops.

Brian Meece, CEO of RocketHub
Whereas social media can be a great tool to broadcast your message to an existing network of friends and followers, email marketing provides an opportunity for a more personal appeal, whether that be to your friends and family or those that have already backed your campaign.
Julie Kresen was an early Kickstarter adopter, and her "Here You Go" project was successfully funded in 2009. It was designed to spread goodwill by handing a thousand umbrellas to people stuck in the rain. Each umbrella had an attached message encouraging the recipient to do something kind for someone else.
She was kind enough to share the email her husband Geoff sent to their network of friends and family at the launch of their campaign.
Julie shared that whereas social media was a powerful tool to reach acquaintances and their extended network, email marketing was a great way for herself and her husband to make personal appeals to close friends and family. This appeal proved pivotal in helping them get over the hump toward the end of the campaign.
Email was especially important at the very end because right before our Kickstarter campaign ended we did an email push… my husband did it, and that was strictly over email. It was an email to maybe 75 people about 2 or 3 days before the Kickstarter campaign… "Here's what we have, here's what we still need, here's our deadline, it's only two days away." That was where we had the final push where we got about 30% of our money after that.

Julie Kresen, "Here You Go"
Right before the campaign ended, some of Geoff and Julie's friends and family were donating hundreds of dollars in an effort to see the project through.
She also thinks that having her husband send the email helped to make a more emotional appeal to their immediate network. She said, "It's more endearing than begging. 'My wife is doing this great thing, please help her out.'"
Almost all crowdfunding platforms will have some email marketing component built into the platform. Kickstarter allows campaigners to send emails to existing backers.  RocketHub allows project leaders to send emails to their own custom lists.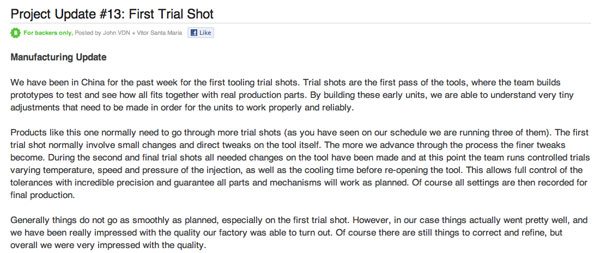 This proves particularly powerful for those that adhere to the often mentioned "30% rule." If you already have a network of backers when you launch your campaign, you can reach out to those backers and encourage them to share your campaign with their networks. This can help increase your reach. Newcomers to your campaign will feel reassured when they see that you've already achieved a significant amount of your goal, and they'll be more likely to contribute.

Email is also instrumental after your campaign is over as a means to communicate with your newfound backers. Whether they're waiting for their rewards or just eager to hear that their money is being put to good use, email can serve as a more personal way to keep your backers in the loop as opposed to more broadcast-oriented social media services.

For more tips, check out our Crowdfunding How To Guide

Sponsored Links by DQ Promote