The crowdfunded watch Pebble is finally making it into the hands of reviewers.  Covered extensively in the popular media the Pebble watch has come to represent for many the potential of crowdfunding. Below is an excerpt for popular tech blog Engadget.
We've really enjoyed our time with Pebble so far — it's not a fashion statement, necessarily, but we wouldn't be surprised to see it pop up on many wrists in the weeks and months to come. Functionality is still quite limited at this point, and considering how fresh the device is, that's to be expected. The features that are already available work well, and the smartwatch has been a pleasure to use.

Taking price into account, Pebble is an excellent value, especially for lucky Kickstarter backers who were able to take advantage of $99, $115 and $125 pre-orders. We're very optimistic for the device's future — our chief concern relates not to the hardware, but how it will affect behavior: If you thought that friend who glances at his smartphone every few minutes was rude, just wait until they own a Pebble.
Largely laudatory the few shortcomings mentioned will certainly be ironed out in future generations.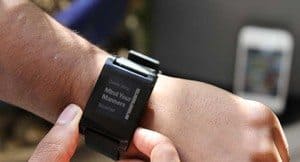 Especially if Pebble founder Eric Migicovsky can stay ahead of the budding competition.

Pebble is expected to fulfill all Kickstarter orders over the next 6 to 8 weeks and may eventually end up in retail outlets.  To read the full review of the Pebble watch you may go here. 

You may order a Pebble watch from their site for $150.00.  85,000 Pebblers and counting as of today.

Sponsored Links by DQ Promote