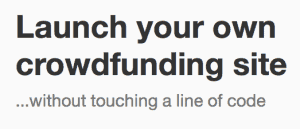 Crowdfunding is as hot right now as English-Irish boy band One Direction and everybody wants a piece.
Crowdtilt has released a new product called CrowdHoster that makes it easy to build a custom crowdfunding site without having to write any code. This popular Y Combinator startup provides an online place for friends to pool their money together for a specific purpose, like a wine tour or a wedding gift. Unlike Kickstarter and and Indiegogo which mostly feature creative and business projects, Crowdtilt focuses on enabling group experiences or shared causes.

CrowdHoster is based on the SelfStarter open source project. After presenting the Crowdtilt API in December for developer use, many people without programming expertise expressed interest as well. The team partnered with fellow YC alum Lockitron  to build out the SelfStarter codebase, integrating the API and adding in other features.
Read More at VentureBeat