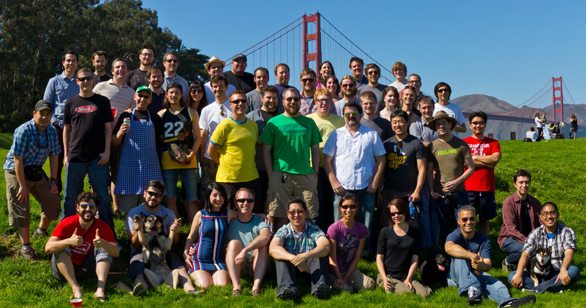 Two months ago LA game publisher and distribution platform Scopely finally pulled the curtain back to reveal what it's been building with the $8.5 million it raised since July 2011. The vision was, not surprisingly, bigger than its "with Buddies" franchise of mobile games, despite the fact that all three titles released to date have been Top 5 games in the iOS App Store. Scopely's big vision is its invite only Scopely Developer Network game distribution, marketing, and monetization platform for third-party developers.
Today, the company announced the first five studio partners who will work in conjunction with Scopely's team, and rely heavily on its technology platform, to create and distribute multiplayer mobile games. Apparently the company didn't aim low, as it attracted highly decorated firms Double Fine, Big Cave Games, High Line Games, Rocket Jump Games, and Zupcat Games.
… Double Fine, which is well known for the game G4 called the "Funniest Game Ever," Psychonauts. The 12 year old San Francisco studio also recently grabbed headlines by raising $3.3 million on Kickstarter for the yet to be created Double Fine Adventure game. Dallas-based Big Cave Games, for its part, is behind ORC: Vengeance, which was named App Store's Editor's Choice and Best of 2012, Showpiece Games.