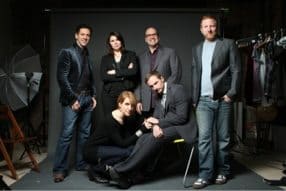 When Jeff Bowen's off-Broadway musical "Now. Here. This." closed last year, he and his collaborators were left with some great things — plenty of good reviews, some new fans and memories.
That was great, but what they really wanted was a cast album.
A recording would be both a great marketing tool and a souvenir. But "Now. Here. This." wasn't a blockbuster Broadway show and it had already ended its run. Major record labels weren't exactly beating a path to his door to get it recorded.
So Bowen, who starred in the show as well as wrote the songs and lyrics, turned to the show's fans via crowdfunding, an idea that more people in the theater community are embracing.
Crowdfunding is a tool in which donors contribute small sums of money to get a project off the ground. Usually, the contributors get something in return — like a ticket to a concert or a programmable watch. In this case, they would get a CD or a download of the album.
Bowen went to Kickstarter — a popular website where people can finance all sorts of projects, from an animated Web series to a volunteer mission to leather wallets — and asked for $75,000, the bulk of which was to be spent on musicians, studio time, engineers and to get the CDs made.
Read More at USNews