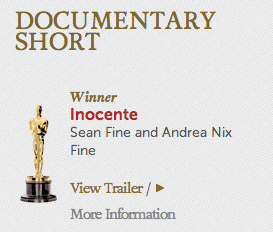 The movie Argo might have picked up the biggest prize in last week's Academy Awards ceremony, but it was the Best Documentary Short winner that had many on the Internet buzzing.
Inocente, a film about a 15-year old homeless girl who dreams of becoming an artist, took home the Oscar, and in the process became the first Internet crowdsource-fund-ed film to win Hollywood's biggest award. Last year, the film raised $52,527 on Kickstarter, a crowd-source funding website that has raised more than $100 million U.S. to support the creation of independent films.
The emergence of crowdsource funding – or crowdfunding – points to the power of the Internet as an important source of financial support for independent creators, whether filmmakers, musicians, software programmers or authors. Crowdfunding enables creators to raise funds through small contributions from the public by publicizing their project using the Internet and social media sites. Crowdfund-ing success stories encompass new products, companies and community initiatives, but movies have fared particularly well.
Read More at Ottawa Citizen