Indiegogo has cemented itself as the clear number two player in what is commonly called "rewards-based crowdfunding."
There are a host of reasons for this, but one thing in particular differentiates Indiegogo from Kickstarter in a big way: flexible funding campaigns.
If you quickly look through Indiegogo's list of campaigns, it will shock you how many of them are flexible funding campaigns. It is a heavily used structure. So, what does it mean?
In a "normal" crowdfunding campaign, backers are reimbursed if the stated funding goal isn't met in a certain amount of time. Indiegogo calls this "fixed funding."
In a flexible funding campaign, the campaign creator keeps all funds donated regardless of whether or not the campaigns meets its stated funding goal.
There is also a slight fee difference. With both fixed and flexible funding, 4% of contributions are kept as fees for successful campaigns. However, in a fixed funding campaign contributions are refunded when the campaign doesn't meet its goal. If a flexible funding campaign doesn't meet its goal, remember, the creator still gets the funds… but Indiegogo keeps 9%, not 4%. This presumably maintains an incentive for flexible funding campaigners to set a reasonable goal.
Pro Tip: If you do launch a flexible funding campaign, just set a low goal. It protects against the 9% fee without preventing you from continuing to raise money after the lower goal was met. As a matter of fact, the crowd may be even more impressed once your low goal has been met two or three times over. You can then use stretch goals to encourage contributions.
This type of raise is perfectly suited for certain types of campaigns. This is especially true of campaigns meant to support a charitable cause. When raising money for the victims of a natural disaster, for example, who cares if the funding goal is met? Anyone willing to contribute funds should rest assured knowing that their funds are going to the stated cause.
However, flexible funding should send up red flags for certain campaigns as well. The reasons for this were outlined last year in a post on macedoniafilms.com entitled Why 'Flexible Funding' Campaigns On IndieGoGo are Dangerous. From the article…
Say you sit down to budget your project and you determine that you need a minimum of $5000 to make it all happen. You set up your 'Flexible Funding' campaign, but are only able to raise $1000 before the deadline hits. Are you then able to complete your project for less than your budget?

The correct answer is 'no.'

Why would you set yourself up for that situation? Are you planning on making off with other people's money with no hope of delivering on your promises? It makes no sense to me. Have the decency to be transparent with your donors. If you can't make do with less, then don't take their money. Period.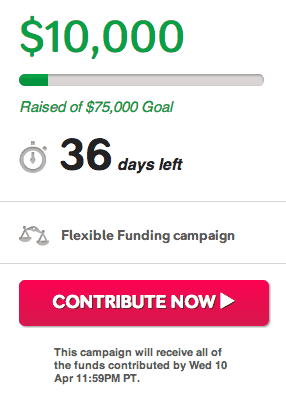 This is a valid criticism. That isn't to say that everyone using flexible funding is a swindler by any means. Like I said, in some cases flexible funding is the only viable option. However, a flexible funding campaign certainly deserves some extra vetting from any contributor. Ask yourself why the campaign creator chose to go with a flexible funding campaign. (If they're really awesome they'll explain why in the project description!)
One particularly interesting anecdote comes from a commenter on the blog. He explains what happened when he found himself "in the middle," with some funds but not enough to realize the ultimate project goal…
I created a (non-filmmaking) Flexible Funding campaign with a relatively modest budget on Indiegogo as a way to try out crowdsourcing and, of course, try to complete a project that I've had in the back of my mind for years. I figured it wouldn't hurt to try. I assumed I would either get nothing at all (which would be OK) or enough to make some decent progress even if I didn't hit my goal in which case the project might not be as good but it would still happen (which would also be OK). Turns out… bad assumption. With a few days left and no momentum or much hope for things to turn around, I'm looking at a situation where I haven't raised nothing, but what I've raised is not enough to get the project rolling at all. It's a failed project and I do not have the funds on my own to make up the difference to get it to a point where I can complete even a lesser version of it.

This puts me in the "where do the funds go" position, and the only answer I can ethically accept is that I have to refund it. Naturally the money to do that is just sitting there, waiting for me to do that… minus the Indiegogo fees and PayPal fees, so I'll end up in the hole. Luckily it won't be a deep hole, but it definitely proves false the "it can't hurt to try" notion. It can hurt, monetarily or in reputation or both. The only value for me from this experiment is learning that Flexible Funding needs to be approached much more carefully.
Author Dan Baker shares another anecdote…
Just visited a friend the other night that manages a band. They're in the middle of a flexible funding campaign to raise money to record a new album, but it looks like the campaign will end with less than what they need, and now they're in the same position you are.

What they're considering is recording a single instead of a full album…which I think might be a problem since one of the perks is a copy of the album. Dunno. Tricky tricky.
Tricky indeed. Hopefully this helps outline why flexible funding may not be right for creators or in some cases for backers, too.
So, to summarize…
Flexible funding means you keep all that is contributed regardless of whether or not the goal is met.

If you don't meet your goal, you pay a steep 9% fee.
Flexible funding is perfect for charitable causes.
For projects in film, gaming, consumer goods, etc. be weary of flexible funding campaigns. Ask why the creator chose that type of funding.
Sponsored Links by DQ Promote