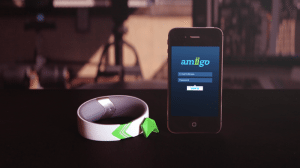 Fitness lovers with a competitive streak, picture this: a wearable electronic device that does the trash-talking for you.
Dave Scott did. He's 27, big into cardio and cross fit and wanted to brag about his personal bests. So did his buddy Abe Carter, 24. They thought a device that collected data on repetitions, duration and speed would be cool, but they also wanted that information in real time so it could be shared and used to compete virtually with friends.
"We're just two guys with a crazy idea," Scott said.
They teamed up with Max Mann and Nahom Workie from MIT and got some initial funding through a Dubai venture-capital firm. But eventually they turned to the crowd, launching a crowdfunding campaign on Kickstarter with a goal of raising $90,000 to get the product through the manufacturing phase. So far, they've raised more than $470,000 on Indiegogo for their Amiigo Fitness Bracelet.
Read More at The Salt Lake Tribune