Great innovations and great inventions are driven by great demand, but the extent of that demand isn't always immediately apparent. As Steve Jobs famously said, "A lot of times, people don't know what they want until you show it to them."
Crowdfunding may be one of those innovations, one whose eventual impact is unimaginable in today's context. That is certainly what the architects of the JOBS Act are hoping for. If today's economic engine is sputtering, there are hopes that crowdfunding will eventually help turn our economy back into a well-oiled machine.
How big is our need for capital in America? It is hard to say for certain, but there is almost certainly a need. Among respondents to this 2012 small business survey by the NSBA, 43% stated that they had needed funds in the last four years but were unable to find anyone to lend to them. 37% had opened a credit card account in the last 12 months to meet capital needs. The average interest rate of those accounts is 15.6%.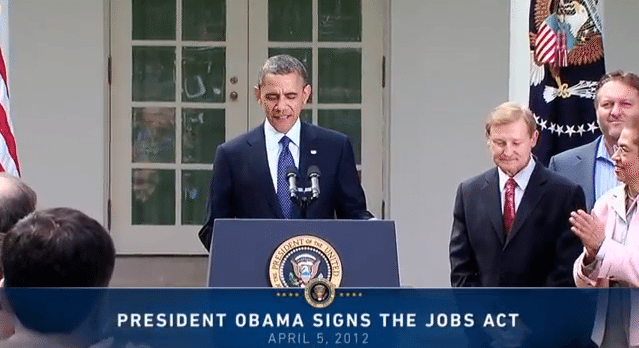 19% of respondents said that the JOBS Act has made them more likely to seek outside investment. If you extrapolate that number across the reported 23 million small businesses in America, over 4.3 million businesses will consider investment crowdfunding. According to the SBA, small businesses provide 55% of all jobs and 66% of all net new jobs since the 1970s in the US. They're extremely important to our economy.
Cars, cell phones, computers… crowdfunding? Could crowdfunding one day be on the list of ideas we can't imagine life without?
To be fair, it's a significant happening already. Thousands and thousands of products, artistic projects, charities, causes and businesses simply would not exist or be as empowered without this incredible phenomenon.
Kickstarter alone is accountable for over a half a billion dollars in funding, and that number grows every day, but Kickstarter isn't alone. Creative entrepreneurs are developing new spins on crowdfunding at an astounding pace. Platforms seem to pop up constantly.
While the extent of the need to leverage capital from our peers is not altogether untested, one can only imagine the future impact of crowdfunding on society. The great unknown lies in unleashing the powerful Internet machine (and the scale that accompanies it) on equity ownership, peer-to-peer financing and investment solicitation.
People are going to be increasingly aware of this new way to raise funds and invest, and we're only in the beginning stages of that process of discovery. We'll discover crowdfunding on our phones, TVs and tablets, in print and in some cases even at the dinner table. People will share it, tweet it, like it, pin it and watch it on YouTube. Social media and the Internet will play a vital role in educating a new type of investor about this new form of investment.
So, what does a best-case scenario look like?
I'm a strong believer that the cinderella story is a main street one. Many are laser-focused on the dream of being an early investor in the next Facebook or LinkedIn, but I've spent enough time listening to the architects of crowdfunding to know that that isn't their ultimate vision. It may happen, but it will probably be just as rare as the successes of Facebook and LinkedIn themselves.
When it becomes common practice to invest directly in businesses close to you – and when you can do so quickly, easily and safely – the potential for change is huge.
Reality for most Americans is an education, a job, a car and a house, or some combination of the four. Raising capital to start a business or backing one close to you could become just as ubiquitous one day in the not-too-distant future.
As of right now a lot of this may seem like lofty idealism, but who knows? Maybe crowdfunding can change the world.