Bitcoin is a cryptocurrency that is particularly popular amongst libertarian-minded individuals because of it's decentralized, open-source nature.
For a quick primer on what bitcoin is and how it works, check out this presentation by Robert McNally.
A Wild Day For Bitcoin
The currency made a lot of news today after some wild swings in value. In the past 24 hours the value of a single Bitcoin (BTC) has been as high as $266 and as low as $105. There is speculation that service outages on Mt. Gox, the world's largest BTC exchange, spurred panic and caused a sudden selloff and resulted in a drop in value. At the time of writing the price has rebounded to around $175 US.
To put this in perspective, one BTC was worth about $10 US in November of 2012.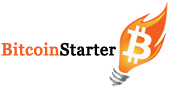 Today even saw the surfacing of someone calling themselves the "bitcoin billionaire" on Reddit. This individual gifted thousands of dollars worth of Bitcoins to seemingly random folks on Reddit.
Crowdfunding in BTC
Now there's a crowdfunding platform that deals specifically in BTC. The site is aptly named "BitcoinStarter."
BitcoinStarter helps you raise Bitcoin funds for your project! Anyone, anywhere, can create a project profile detailing what they plan to achieve with the Bitcoin they raise. Project creators promote their project to potential Bitcoin pledgers who then pledge Bitcoin into the project, over a period of time, till the funds accumulate and the target amount is raised. The project creator is then responsible for distributing the rewards to the Bitcoin pledgers. The project page will include two important sections:

Target Amount BTC – the target amount BTC needed to fully fund a project.
Rewards – the benefits Pledgers receive for their Bitcoin contributions. This isn't required, but highly recommended.

It is the responsibility of each project creator that is accepted into the BitcoinStarter program to reach their respective Bitcoin targeted amount.
It is somewhat interesting to consider crowdfunding campaigns that target their goals in BTC when you consider those goals could swing by thousands of dollars in a single day.
Defense Distributed
Defense Distributed has listed a project on the site. You may remember them from the now-infamous WikiWeapon project that was pulled from Indiegogo for a TOS violation.

They're now working on DEFCAD.com, a search engine for 3D printable CAD files. They've listed a project on BitcoinStarter, although it seems unlikely to find funding with only 6 days to go.

We've reached out to BitcoinStarter in hopes of hearing more about their platform.

Sponsored Links by DQ Promote