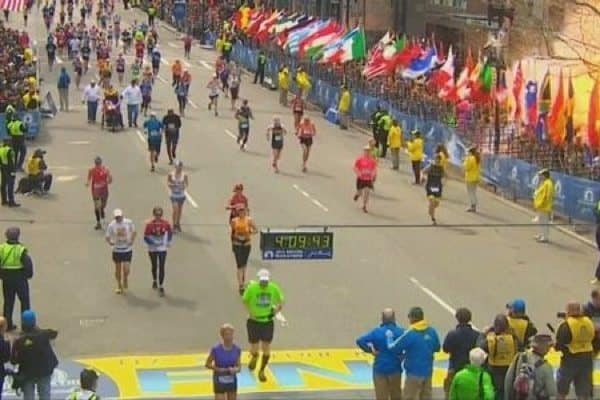 As the world watches the events unfolding following the tragic bombing during the Boston Marathon, crowdfunding is kicking in to support, aid or recognize the tragedy created by terrorists.
The Boston Marathon is not just a Marathon, it is THE Marathon for many people.  It is so large and so well known most people know someone or know of someone who is running or simply has gone to watch.  I found out about the senseless act of terrorism by the multiple alerts that hit the screen of my iPad but this was quickly followed by friends posting their "I am ok" status on Facebook and then the avalanche of twitter kicked in with the tweets and retweets of the shocked bystanders.
When such an incredibly evil and sad event occurs, we all mourn as a nation. We also want to come together as a society to help in some small way or recognize those directly impacted by such an ignominious act of cowardice.  Crowdfunding has aided this process.  In an almost cathartic process numerous crowdfunding campaigns have cropped up for the injured.  While the headlines regarding amounts have already been published, we have listed below excerpts and links to some of the diverse, supportive efforts.  All of these efforts should be applauded and most are very sad.
Brassard Recovery Fund – GoFundMe
Ron, Karen and Krystara Brassard were among those injured in the Boston Marathon bombing this past Patriot's day. You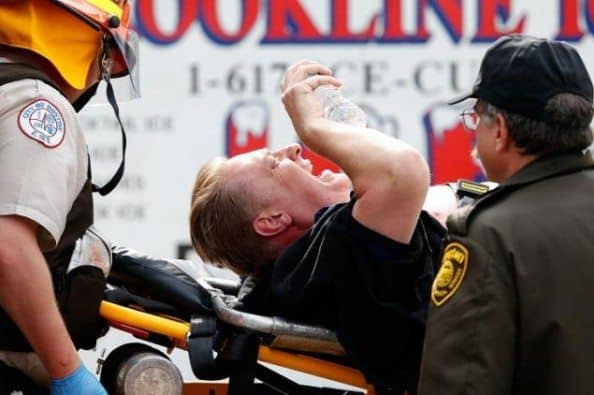 have all seen their countless photos and videos and we are asking for your help and support as they face a long recovery process from their physical and emotional pain resulting from this tragic event. Krystara was treated for shrapnel wounds, burns and an ankle injury and was released from the hospital on crutches. Karen had shrapnel wounds on one leg and one ankle, requiring two surgeries to repair. She was released from the hospital on Thursday, but is still unable to walk without assistance. Ron suffered an arterial bleed in his right leg, causing considerable muscle and nerve damage. Ron is scheduled for his third surgery on Friday and there is no timetable for his release.
Fund for Adrianne – GoFundMe
Adrianne Haslet and her husband Adam Davis were both severely injured in the Boston Marathon bombing. They were enjoying a beautiful day off together. Adam just returned from a tour of duty in Afghanistan a couple of weeks ago and Adrianne was on her normal day off from her work as a Dance Instructor at the Boston location of the Arthur Murray Dance Studio. The day turned to tragedy for so many, as we all know. We want to show Adrianne and Adam that their friends and loved ones are here for them and will support them through the pain and suffering.
John Odom Recovery Fund – GoFundMe
John Odom was critically injured in the recent Boston Marathon bombings. John has undergone numerous surgeries to remove shrapnel and repair nerve and artery damage caused by the blasts. John has a long road ahead of him with many more surgeries and rehabilitation.   John lives in Southern California and was here to watch his daughter, Nicole Reis, cross the finish line. John is a dedicated husband, father and grandfather.
Roseann's Recovery Fund – Boston Victim – GoFundMe
Roseann Sdoia was severely injured as a spectator at the Boston Marathon on 4/15/13. Roseann suffered seroius injuries as a result of the explosions and has lost a leg at the knee. She has already undergone several surgeries with more to follow. It will be a long journey of recovery, both physically and emotionally. I went to high school and college with Roseann. We were also sorority sisters together; so we have been friends for over 30 years! Please help shine the light of kindness, strength and support on Roseann by making a donation of any amount if you can. We love Ro and want her to know that we are all here for her – whether we are friends, family or strangers. Please feel free to donate in the memory of a loved one whose name will help inspire Roseann through her treatment and recovery. Please keep all the victims in your prayers. Permanent Funding for all monetary gifts is currently being set up at Enterprise Bank Lowell MA. The gifts donated to Roseann on this site will be transferred to Enterprise Bank for Roseann to use for all expenses incurred due to this tragic event. Thank you!
Bucks for Bauman – GoFundMe
*We have created this fundraiser to raise money to help support our dear friend, Jeff and his family. As most of you know, Jeff was severely affected by the tragedy that had taken place at the Patriots Day Boston Marathon this year. Throughout this difficult time we want to help in every which way we possibly can to get Bauman back on track as soon as possible.
*Medical bills are going to start rolling in, let's get a head start on helping out Bauman and his family! Every dollar counts!!
Celeste & Sydney Recovery Fund – GoFundMe
Celeste and Sydney were badly injured in the blasts at the Boston Marathon on 4/15/13. Sydney suffered severe injuries as a result of being hit with shrapnel and Celeste has lost both her legs below her knees. There is a long road ahead – both physically and emotionally – and we're hoping to relieve some of the financial burden by raising funds in their name. Please help spread the word and donate if you can. The outpouring of emotion and support has been nothing less than amazing and the family is extremely grateful for your prayers and warm words.
Christian & Carolyn's Recovery Fund – GoFundMe
Our friends Christian Williams and Caroline Reinsch were at the finish line of the Boston Marathon on April 15. The first bomb exploded just feet from where they were standing. Their legs were shredded by the blasts and Christian's right hand was also partially "degloved", meaning he has no skin left on his last three fingers. They are both still in the hospital and have undergone multiple surgeries on their legs. There will be more in the coming days and possibly weeks. Both Christian and Caroline ran the Boston Marathon last year, raising thousands of dollars for Dana Farber Cancer Institute through their successful campaign, "Make My Feet Go."
The MRM Fund – GoFundMe
My beautiful best friend, Michele Rose Mahoney, was severely injured in the attacks that took place during the Boston Marathon. She was standing along side her friends Remy Lawler and Jeff Bauman, cheering on her roommate, Erin Hurley, as she ran the marathon that day. They were unfortunately located in the direct area of the first explosion and Michele suffered extensive damage to both of her legs. She is by far the strongest most positive person I know and is handling the aftermath of this terrible tragedy so well. She is extremely strong-willed, polite, and courteous to all of the those who are assisting in her recovery and has earned the nickname "super star" by the hospital staff.
Patrick and Jessica Downes Recovery Fund – GoFundMe
Patrick and Jessica Downes are newlyweds who were enjoying Patriot Day in Boston while viewing the Boston Marathon.  As our community and Nation watched in horror these amazing young couple were in the epicenter.  Both Patrick and Jessica have suffered major injuries and have a long road to recovery ahead of them.  Jessica had another surgery this morning.
Run 4 Martin Richards Family – GoFundMe
I need to do something about it.  So I have set up a donation page – please help if you can – any amount – even $1 a mile for the 13.1 miles I will run on Saturday will make a statement to this family that love still exists – and our American values that celebrate family, respect, freedom and perseverance will eventually overcome all.  I have decided to run the Runapalooza 1/2 marathon on Saturday April 20th in Asbury Parkl NJ in support of this family and would like to ask you to help me raise funds for the Richard family, his dad finished the race but lost his son, his sister lost a limb and his mom has serious injuries.
The Jacqui, Paul and JP Recovery Fund – GoFundMe
Our sister Jacqui Webb, her boyfriend of 10 years Paul Norden and his brother JP Norden were badly injured in the horrific attacks on April 15th, 2013 at the Boston Marathon. We are thankful that they are all alive but heartbroken over the physical and emotional damage that they've all endured. Jacqui was one of the luckier ones considering she was right next to the 2nd bomb. She has sharpnel damage to her legs and has undergone 2 surgeries and has a couple more to go. Unfortunately, her boyfriend Paul and his brother JP both lost their right legs and have already gone through several surgeries and still have more to come.
One Fund Boston – G0FundMe
1. Who you are- Sandy Carter
2. Where you're from- Atlanta, GA
3. Your relationship to the parties you're donating to- avid runner
4. Where the money is going -The One Fund Boston
5. Contact information – phone: 404-313-5128
One Fund Boston Established Will raise money for families affected by the Boston bombings.
RUN4BOSTON…for those who no longer can… – GoFundMe
Hi, my name is Michael Bonetti. I am a personal trainer and I love to run. When I first heard about the bombings at the Boston Marathon I was shocked and deeply saddened. The loss of life and the loss of limbs from this terrorist attack is truly unbelievable.   On May 11, 1995, I was struck by an automobile while pushing a stalled car off of I-285 and 'almost' lost my right leg. After numerous surgeries and many months of rehab, I could finally walk, then eventually, I could run again. I can not even begin to know, how the victims in Boston feel; but I have a very strong connection to them. And I know, they need our help.  So, in conjunction with my clients, 'WE' are going to run a marathon for them on May 11, 2013. To honor those whose lives were lost, and for those whose lives are permanently changed. With your donation, the money we raise will go to help with the medical expenses they are going to incur.
Hearts for Boson – Indiegogo
This fundraising campaign is simple: preorder a "Hearts for Boston" pin, patch or t-shirt designed by local artist Dan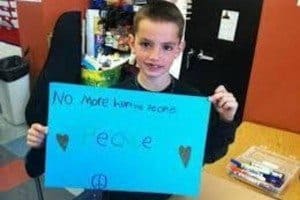 Blakeslee as both a symbol of solidarity for the victims and a concrete measure of financial support for the Richard family.Martin Richard, an 8-year-old boy from Dorchester, was one of three casualties from the marathon bombing.  Martin was attending the race along with his mother and younger sister in support of his father, an avid runner. One moment the family was enjoying the day; the next, an explosion took young Martin's life, destroyed one of his sister's legs, and left his mother with serious brain damage. While no amount of money can mend the losses sustained by the Richard family yesterday, at the very least they should not have to worry about any financial considerations tied to medical and funeral costs. With this in mind, all proceeds will go directly to the Richard Family Fund at Salem Five bank.
Running London for Boston Bomb Victims –  Indiegogo
Three people were killed and over 170 injured in the Boston Marathon bombing on 15th April 2013. Many of those 170 have been grievously hurt and these innocent victims are facing long periods of medical treatment and rehabilitation. Many of them will require alterations to their houses and expensive prosthetics, and some of them might need long-term care. I am asking that you sponsor me to run the London Marathon this Sunday (21st April). All money raised will be divided equally between the Mayor of Boston's One Fund, a general fund to assist victims of the bombs, and the Challenged Athletes Foundation's Boston fund, which will help with rehabilitation of those left disabled after the attack.
Please help Boston Marathon Victims the DiMartino family – Indiegogo
Please donate and support this effort for the DiMartino family.  I have known a member of the family Gina for several years.  We have worked together previously, and I have met many members of this wonderful family.They were unfortunate enough to be at the blast site of the Boston Marathon on April 15, 2013. Please donate to this cause to help with any related medical bills that they may come across.  As of the writing of this campaign, Gina was in surgery for leg injuries.  Her mother was running in the marathon and Gina was there to cheer her on.
San Diego & Friends United for Boston and Marathon Participants! – Indiegogo
It would be useless for us to give any description of the events that transpired on Monday, April 15th at the Boston Marathon. We've all seen them on TV, heard them on radio and read about them in the press. Americans from across the country sat glued to their TVs and the Internet as updates came pouring in from Boston. Thoughts and prayers flooded social networks with iconic images spurring from all over the country. We are taking these thoughts and prayers one step further! We believe Americans and especially Bostonians are resilient people! In times of need, we look toward the San Diego community to unite in helping in any way we can!
Wristbands For Boston – Indiegogo
In the wake of the attacks that took place at the Boston Marathon today, Keep Charlotte Boring has decided to offer a $5 perk on our indiegogo fundraiser. We're calling this Wristbands For Boston for the remainder of our fundraising effort. All of the proceeds from the sale of these wristbands will benefit The American Red Cross. Please help if you can. All money will donated in the name of everyone affected by today's unfortunate tragedy.
Boston Marathon Relief – Indiegogo
As it was a normal day of celebration, Turned to tragic. I was Just watching my mother race for a good cause. Seeing and feeling the scary event that had happened I felt like I couldn't help anyone. I was scared for my life and others. Seeing my Mother was okay, I turned to help others move out of danger. Seeing all these people needing help made me feel useless. So I desided to try and feel helpful and give the only way I can during this tragic time. I'm no professinal by anymeans.
For the contributors who help achieve this will help hundreds of people in need. We can give back in a big way. This will be donated to all the people injured and help rebuild Boston, physical, emotional, and spiritual help that they will need.
Boston Marathon Victims Relief Fundraiser – Indiegogo
This "heinous cowardly act" is going to cost the victims & their families hundreds & hundreds of thousands of dollars for the endless medical treatment, rehabilitation & psychological counseling. NO FAMILY SHOULD HAVE TO WORRY ABOUT THE FINANCIALS IN A SITUATION LIKE THIS.That is why we are selling drink ware products, to help raise money for the victims and so you get something for your generous donations.
Help for Patrick and Jess – GiveForward
On April 15, 2013 Patrick Downes and Jessica Kensky both sustained severe leg injuries after one of the bombs went off at the
finish line of the Boston Marathon. This GiveForward page has been created by friends of theirs in order to give friends and family a place to post comments of love and support. We are also asking those who feel comfortable to leave a donation that will go towards the medical bills and out-of-pocket costs associated with both of their surgeries and rehabilitation.

Ann + Eric Whalley Recovery Fund – GiveForward

Ann (65) and Eric Whalley (65) are longtime Massachusetts residents who were severely injured in the Boston Marathon bombings on April 15, 2013. As of April 17, Ann is currently in the ICU with numerous severe external wounds but in stable condition. Eric has suffered brain trauma and damage to his legs, and will need several follow up operations including a serious neurological operation later this week at Brigham & Women's hospital.

Recovery for Brittany Loring – GiveForward

On Monday, April 15, Brittany sustained severe injuries from the bombing of the finish line at the Boston Marathon. Friends and family are encouraged to leave comments of love and support on this page. Brittany loves hearing from you! Those who wish to do so may also leave a donation that will go toward out-of-pocket expenses associated with Brittany's surgeries and rehabilitation

Recovery for Liza – GiveForward

The outpouring of love and support for Liza Cherney over the last few days has been incredible. It is a testament to the impact Liza has on anyone who has the great pleasure of knowing her. This page has been created by Liza's friends as a place to share words of love and encouragement. We are also asking those who feel comfortable to leave a donation that will go towards the medical bills and out-of-pocket costs associated with Liza's medical expenses and rehabilitation. Liza's strength and incredible spirit outshine the darkness of the tragedy she has endured. We love you Liza!

Galvis Fund – GiveForward

The Galvis Fund is a relief effort to support Alvaro & Martha Galvis recover from injuries they sustained during the Boston Marathon.

My father, Alvaro Galvis, received shrapnel injuries to the right leg and lower buttocks. He underwent two surgeries. He is seeing physical therapists and a psychologist to deal with post-traumatic stress disorder. My mother Martha Galvis, received shrapnel injuries to the hand and leg. She underwent two surgeries for her leg and at this point-in-time cannot walk on her own. The doctors predict it will take a year for her leg to recover due to severe nerve damage. Regarding her hand, she will have to undergo a total of five reconstructive surgeries. Sadly, her left ring finger was amputated. Her index, pinky and middle fingers were shattered, and the bone of the amputated finger was used to strengthen all three other fingers.

Karen Rand/Boston Marathon Bombing Victim – GiveForward

My mother was with her best friend Krystle Campbell on the day of the Boston Marathon bombings. Krystle didn't make it, my mom is recovering

My mother lost her best friend and one of her legs, she will be out of work a while and has medical bills. She has been so strong and kept a positive attitude through this all. We want to keep her spirits up and not have financial worries burden her the best we can.

In Memory of Martin Richard – GiveForward

The Richard Family will need help with expenses in the coming months. Please consider a donation to help toward those expenses.

On Monday April 15, 2013 – a day Bostonians celebrate, Patriots Day and the running of the Boston Marathon ended in tragedy for The Richard Family and many others. The Richard Family lost 8 year old Martin, and Mrs. Richard and her daughter were critically injured. This fund is set up to help Bill incur any costs (and I am sure there will be many in the coming months) of all this selseless violence.

Michelle L"Heureux Boston Bombing Victim Medical Fund – GiveForward

Friends of Michelle L'Heureux are raising money to assist with medical bills incurred for her hospital stay following the bombing in Boston.

As she and two friends cheered at the finish line of the Boston Marathon, their worlds were forever changed. She remains in the hospital where she was taken from the finish line. Her medical bills are expected to be astronomical.

Kaitlynn's Recovery – GiveForward

Kaitlynn's friends are coming together to raise money to help her as she recovers from injuries sustained from the Boston Marathon Bombings.

Kaitlynn Cates nearly lost her leg during the Boston Marathon Bombings on April 15, 2013. Thanks to the heroic actions of her friend Leo Fonseca, and the amazing staff at MGH, her leg has been saved. Now, Kaitlynn embarks on the road to recovery which will undoubtedly include enormous medical and rehabilitation costs.

Lee Ann and Nick Yanni – GiveForward

Friends and colleagues of Lee Ann Yanni are coming together to raise money to help her recover from Boston marathon bombing injuries.

The Joint Ventures Physical Therapy family has unfortunately been affected by the events that occurred on Marathon Monday.  One of our therapists, Lee Ann Yanni, and her husband Nick were 10 feet from the finish line when the bombs went off.  They were cheering on a friend and Joint Ventures' patient who had just finished the race. Lee Ann sustained an open fibular fracture, shrapnel wounds and experienced some temporary loss of hearing. She will undergo surgery for a skin graft and will remain in the hospital for about a week.  Her husband Nick ruptured his ear drum and was discharged from Tufts Medical Center Tuesday

Rebekah Gregory Benefit Account – Boston Marathon Victim – GiveForward

Boston Marathon victims Rebekah Gregory and her 5-year old son Noah were tragically injured in the senseless bombing attacks. Please help.

Rebekah Gregory, who celebrated her 26th birthday with a trip to Boston, was seriously injured in the recent bombing attacks at the finish line of the Boston Marathon on April 15th. Rebekah, who currently resides in Houston, TX, was attending the event with her boyfriend and 5-year old son, Noah. All three were seriously injured in the blast zone and were taken to separate hospitals where Rebekah and her boyfriend have undergone several surgeries. Rebekah's family, who also reside in Houston, rushed to be by her side late on Monday evening.

JP & Paul Norden, Marc & Jacqui – Victims of Boston Marathon Bombings – GiveForward

Those wounded in the Boston Marathon bomb attack included two brothers who went to cheer on a friend, and each lost a leg, their mother told the Boston Globe.

Liz Norden told the newspaper she was home when she got a call on her cellphone from her younger son, Paul, who was in an ambulance.

"Ma, I'm hurt real bad," the 31-year-old told Norden.

He said his older brother, J.P., was standing next to him when one of the two bombs went off just before 3 p.m. on Monday, but he didn't know what happened to him.

It wasn't long before Norden found out: the 33-year-old had also lost a leg in the explosion, she said.

9 year old Marathon Victim – GiveForward

My 9 year old family member has a severe injury to her leg.

This is a fundraiser for a member of my family. She is 9 years old and was spectator at the Boston Marathon. She is still in serious condition with a very severe leg injury. This injury could require amputation. She is only 9 years old! She was at the marathon because she loved running with her mother. This fund will help her physical therapy and pay medical bills.

Help isha sharma to recover – GiveForward

Relative of isha is raising money to assist with medical bills incurred for her hospital stay

Yesterday only i came to know about this website,so i posted this fundraiser to help my friend,She is in need of you people's help

Isha sharma sustained severe hand and leg injuries after one of the bombs went off at the finish line of the Boston Marathon.we don't want her to worry about the financial problem of her and we should try to raise donation  as much as possible to help her… so i want to request all the people to support us we are not rich people so donation will help us a lot.

HelpBostonVictims – GiveForward

The friends and family of Sylvester Delvia ask for your support for bombing victim!!

The bombing of Boston during the marathon changed hundreds of lives, but didn't take the arm of every one of them. Mr. Sylvester Delvia was one of the unfortunate victims of the attack suffering a viscous wound to his left arm deeming an amputation of the entire limb from the shoulder down. unfortunately, our dear friend does not have health insurance and has been unfairly left with medical bills way out of his payable range.

WUSTL Bears for Boston – GiveForward

We feel compelled to raise money in support of victims affected by the Boston Marathon. Please join us by supporting our cause!

*100% of proceeds will be donated to One Fund Boston, created by Massachusetts Governor Deval Patrick and Boston Mayor Menino, the purpose of which is to raise money to help those families most affected by the tragic events that unfolded during the 2013 Boston Marathon.*

 

BOSTON STRONG – Fundly

To raise money for the innocent spectators along the Boston Marathon course. We will never forget the day and will remain strong.

BUCKEYES FOR BOSTON – Fundly

To bring hope and help to victims of the Boston Marathon tragedy

RUNNING FOR THE ONE FUND BOSTON – Fundly

To help the people affected by the Boston Marathon bombing

BOSTON MARATHON EXPLOSION FUND – Fundly

A fund to support the victims of terrorism at the Boston Marathon on April 15.

BOSTON MARATHON TRAGEDY SUPPORT – Fundly

This Campaign is to raise money for victims of the Boston Marathon Tragedy. Familys were torn apart and all donations will help restore them

Please email us [email protected]  if you have a crowdfunding effort which should be included.

Have a crowdfunding offering you'd like to share? Submit an offering for consideration using our Submit a Tip form and we may share it on our site!

Sponsored Links by DQ Promote