Yesterday Travis Okulski at Jalopnik surfaced the story of a man that was using simple Paypal donations to try and "crowdfund" his way to a new Lamborghini, no strings attached.
Funding is taking place via Paypal's donate feature only. No crowdfunding platforms were hurt in the launch of this campaign.
Although this is not crowdfunding in the sense that the campaign is on a platform like Kickstarter or Indiegogo, it helps to highlight the taxonomy problem we've discussed here before, and I think it also provides an interesting case study to support Sang Lee's article from earlier this week.
Imagine a world where a share in an emerging growth company or a  mom and pop store was judged on the same playing field as a project like "buy me a Lamborghini." This just doesn't happen, nor should it.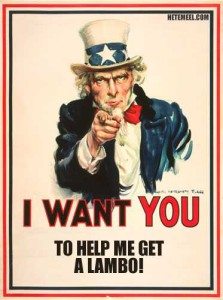 The fact is that this campaign occupies the bottom of the barrel for crowdfunding campaigns in the donations and rewards spaces. It is probably the most meaningless campaign I have ever seen. That isn't to say I blame the man for trying. I'm a car guy. I get it. (I'd choose something cheaper to maintain, but that is for another post!)

Is it the worst campaign ever? Far from it. At least he is being honest!

This is precisely why investment crowdfunding stakeholders are concerned about public perception regarding "crowdfunding" projects. Imagine a world where a share in an emerging growth company or a  mom and pop store was judged on the same playing field as a project like "buy me a Lamborghini." This just doesn't happen, nor should it.

Crowdfunding securities are legitimate forms of investment. They're regulated and subject to SEC- and Congressionally-mandated investor protections. The only thing they share with the types of projects you see on rewards-based crowdfunding platforms is the forum (the Internet).

It's my turn to be brutally honest. I've been reluctant to instate any change in my personal crowdfunding terminology. I had become relegated to the fact that "crowdfunding" as a term was here to stay and define the entire industry. I admit I don't think that will ever change in some instances. There is no better term to use when discussing the industry as a whole nor will there ever will be.

However, for the more seasoned members of the crowd that are now becoming increasingly comfortable with how the space works, crowdinvesting is a more appropriate term. I'm adopting it, because a stake in DietBet has precisely nothing in common with this.

Now, will someone buy me an E90 M3?

Sponsored Links by DQ Promote