We've all been there. You've got this awesome YouTube video you want to show your friends, so you pull it up on your phone and then… well, you awkwardly hold it in front of them and tilt it around until everyone can see. The Keyprop seeks to solve that problem, and for as little as $15 it may be worth a look. It clips to your keyring and can be used as a table stand for your smartphone. It works with a variety of Apple and Android phones, and even plays nicely with most cases.
The designers behind Keyprop have also attempted to tackle another headache for smartphone users: taking still photos of yourself and your friends. From the campaign page…
So in addition to designing Keyprop, we're developing a self-timer camera app called KeyCam. It has a timer countdown and a Clap-to-Snap feature that starts the self-timer from far away. We will be including the app in all the reward levels. Currently it is only for iOS, and it's developed by our talented friend Dean Mao.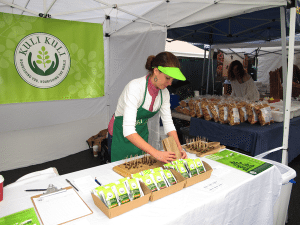 After working with moringa in the Peace Corps to reduce malnutrition in Niger, our CEO Lisa wanted to continue to support women in West Africa to grow more moringa and utilize it to improve the health of their families and communities. Many of the women we work with are earning up to $300 per month — that's a lot of money in West Africa!
Crowdfunders love a socially conscious startup, and that seems to be what we get with Kuli Kuli bars. Silly name, noble mission… to source one of the main ingredients from growers in West Africa and make a really healthy snack while you're at it. The project is already at $33,000 of funding with almost a month to go.
Check the campaign out on Indiegogo.
Jamie Fristom headed up the technical side of the video game for Spider Man 2 and he wants to bring the same style of gameplay to his new adventure, Energy Hook. From the campaign page…
Working on Tony Hawk games gave me an appreciation for games that reward you for style, and something I never really got to do with the mechanics in Spider-Man 2 was explore that. So this is an opportunity for me to do just that, create a swinging game where style is just as important as speed, where mixing up wall-runs and loops and big air with your swings is more important than just getting from point A to point B.

So imagine a future in which the 'energy hook'—a tractor-beam device normally used in construction—is re-purposed by young athletes out for a thrill. Energy Hook becomes the extreme underground sport of the future—the players use their home-made energy hook gauntlets to swing through obstacle courses, racing in winner-gets-your-tech competitions, competing in speed and style.
With a campaign goal of $1, Fristom obviously doesn't need the crowd's money to complete his mission, so chalk this one up to more of a marketing endeavor than a project creator in need of funds.

Check the campaign out on Kickstarter.

Have a crowdfunding offering you'd like to share? Submit an offering for consideration using our Submit a Tip form and we may share it on our site!

Sponsored Links by DQ Promote