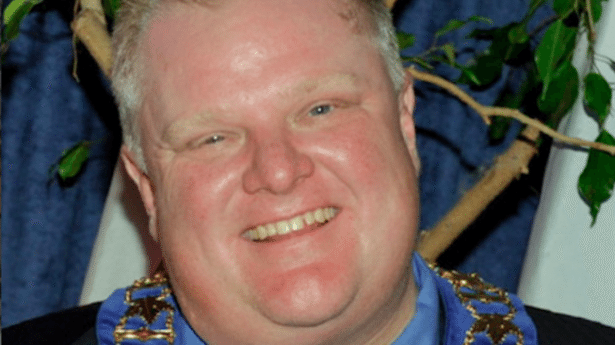 Gawker Media has raised some eyebrows with a crowdfunding campaign they launched this afternoon on Indiegogo. The campaign is in an effort to secure the rights to a video of Toronto mayor Rob Ford allegedly smoking crack. Can't make this up.
For those who aren't familiar, Rob Ford is a highly controversial figure who has been the subject of numerous alleged indiscretions including questionable comments about victims of AIDS and repeatedly being found drunk in public among other things. (Click the link above and be prepared for a long read.)
Gawker actually sent John Cook to Toronto to view the tape at the request of those in posession. (They would only share the tape in person.) What resulted was stunning. From the Gawker piece…
Here is what the video shows: Rob Ford, the mayor of Toronto, is the only person visible in the frame. Prior to the trip, I spent a lot of time looking at photographs of Rob Ford. The man in the video is Rob Ford. It is well-lit, clear. Ford is seated, in a room in a house. In one hand is a a clear, glass pipe. The kind with a big globe and two glass cylinders sticking out of it. In the other hand is a lighter. A slurred voice off-camera is ranting about Canadian politics in what sounds like an attempt to goad Ford. "Pierre Trudeau was a f*****!" is the one phrase the lodges in my mind. Ford, pipe in one hand and lighter in the other, is laughing, and mildly protesting at the sacrilege. He seems to keep trying to light the pipe, but keeps stopping to laugh. He is red-faced and sweaty, heaving with each breath. Finally, he finds his moment and lights up. He inhales.
Cook says the the Toronto Star has since clarified the subject of Ford's ire to be Justin Trudeau, son of Pierre Trudeau and leader of Canada's Liberal Party.
Indiegogo is notorious for their laissez faire attitude toward crowdfunding campaigns on their platform, but this campaign is an absolute beehive. Never before has crowdfunding had the potential to play such a direct role in such a contentious story. The successful funding of one campaign could potentially lead to political turmoil in the largest city in Canada.
Paid Content had some words of caution regarding this campaign today in their piece…
Gawker's gambit raises some very juicy ethical questions. First, while bringing down crack-smoking mayors is clearly in the public interest (see Barry, Marion), it's less clear whether it's acceptable to pay people who are likely serious criminals in order to advance the story.

And while check-book journalism has been around for centuries, turning it over to the public could have unforeseen consequences. Until now, publicly funded journalism has been largely been contained to organizations like Pro Publica that launch investigations into things like patient safety and vote buying. Is the world ready for a publicly funded version of TMZ where everyone can pool money to see celebrity's private lives?
The campaign has 10 days to fund and seems likely to do so. Gawker has an extremely large base of readership, and that readership is generally well versed in social media. Expect this to catch on in the coming days. It may be fully funded in short order.

Have a crowdfunding offering you'd like to share? Submit an offering for consideration using our Submit a Tip form and we may share it on our site!

Sponsored Links by DQ Promote