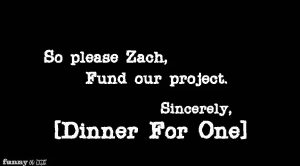 Another round of Zach Braff fun (Thanks for the tip guys!).  This is perfect for a Friday afternoon, heading into a long weekend.
Crowdfunding humor by the same guys that created "Don't Back Zach Braff".  So this is a sequel … of sorts.  They are currently crowdfunding their pilot on Mobcaster called "Life Sucks".
In a note from the creators they ask,
We figure if Zach Braff can ask regular people to fund his project, then why can't famous people fund ours?
It's a great question, but then it's tough being famous.

Loved the video.  Just made my Friday.

Sponsored Links by DQ Promote