Almost 3 years ago, a man behind the wheel of a car who was twice over the legal limit and high on drugs ran a stop sign and slammed into the side of our vehicle. He murdered my mother, my father and my little brother, and left me a quadriplegic, paralyzed from the chest down.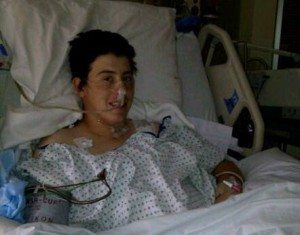 This weekend Gawker published a tragic firsthand account of a family torn apart by a car accident caused by a drunk driver. Jimmy Anderson was brave enough to share the moments leading up to and following the accident, which claimed the lives of his immediate family and left him paralyzed.
It is truly hard to read. The story serves as a sobering reminder of how drunk driving can and does affect innocent victims and their families.
Anderson wants to take an active role in making sure that other individuals and families are spared his experience, and especially the suffocating expenses that come along with being in the wrong place at the wrong time. From the campaign page…

… all of the insurance money and more had to be spent on making my surroundings accessible. Converting our car so that it has a ramp. Installing door openers on my house. Widening doorways so that I could get around. Building a roll-in shower. Voice-recognition software to use my computer. Modified eating equipment. The list goes on and on and the bills totaled higher and higher.
His campaign on Indiegogo seeks $50,000 in a fixed funding campaign to establish a new nonprofit with the goal of helping victims of similar accidents. It also seeks to support advancements in technology that can ensure that impaired drivers don't get behind the wheel in the first place.
But despite all of the hardship, my scars also give me purpose. By showing you my scars maybe I can save you or someone you love. Maybe my scars will give someone pause before driving drunk or encourage someone to get help for their drinking problem. If sharing my scars can save just one person, then the pain of reliving that day is worth it. When I see my family again, I think they will be proud.
The campaign also encourages those that cannot contribute to help in other ways, namely by either sharing the campaign with friends or volunteering to help. Those interested can message Jimmy on Indiegogo for more information.

Have a crowdfunding offering you'd like to share? Submit an offering for consideration using our Submit a Tip form and we may share it on our site!

Sponsored Links by DQ Promote