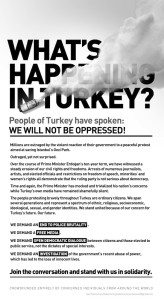 "Crowdfunded entirely by individuals from around the world", the "Full Page Ad for Turkish Democracy in Action" crowdfunding on Indiegogo still has two days to go and now stands at over $103,000 raised.  The ad was incited by the growing popular protest occuring in Turkey which started as a small protest over the future of a park and has now turned into a full blown social movement shaking the foundations of the Erdogen government.
Prime Minister Erdogen has told the protestors to "Stop Now".  The protestors have continued.  The Obama administration has largely been subdued in their response mainly focusing on recent revelations of massive monitoring of US citizens by the NSA.
The text of the statement, which focuses on civil liberties is posted below:
What is Happening in Turkey?

People of Turkey have spoken: We will not be oppressed!

Millions are outraged by the violent reaction of their government to a peaceful protest aimed at saving Istanbul's Gezi Park.

Outraged, yet not surprised.

Over the course of Prime Minister Erdoğan's ten-year term, we have witnessed a steady erosion of our civil rights and freedoms. Arrests of numerous journalists, artists, and elected officials and restrictions on freedom of speech, minorities' and women's rights all demonstrate that the ruling party is not serious about democracy.

Time and again, the Prime Minister has mocked and trivialized his nation's concerns while Turkey's own media have remained shamefully silent.

The people protesting bravely throughout Turkey are ordinary citizens. We span several generations and represent a spectrum of ethnic, religious, socioeconomic, ideological, sexual, and gender identities. We stand united because of our concern for Turkey's future. Our future.

We demand an end to police brutality.
We demand a free media.
We demand open democratic dialogue between citizens and those elected to public service, not the dictates of special interests.
We demand an investigation of the government's recent abuse of power, which has led to the loss of innocent lives.

Join the conversation and stand with us in solidarity. 
Since the campaign has generated funds far in excess of the initial request, organizers are now requesting input as to how the additional crowdfunded support should be put to use.  The options have been narrowed down from suggestions gathered from Reddit.
The protestors have leveraged Google Moderator to survey the crowd.  You may participate here.
Our Reddit Process (experiment) narrowed categories to five which are:

1) Monetary Aid/Charitable Contribution
2) Advertising
3) Documentary/Film
4) Supplies
5) Internet Platform.

Our goal is to discuss various suggestions within these categories but the goal is to arrive at a final category. At the end of 24 hours, this platform will give us the most voted idea that will determine the category under which to solicit FULL PROPOSALS.

(In other words the ideas that are mentioned here will be used to spur conversation – the most voted idea will not receive funding. It is just used to determine the category).

This is yet another experiment in group conversations, open source democracy, transparent voting, and being civil. Hope you enjoy the process as much as helping arrive at some results.
Have a crowdfunding offering you'd like to share? Submit an offering for consideration using our Submit a Tip form and we may share it on our site!

Sponsored Links by DQ Promote