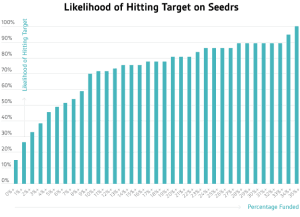 In a posting on the equity crowdfunding platform Seedrs, they share some interesting, but not surprising data, about capturing crowdfunding momentum to reach the fundraising goal:
Of all the startups that have listed on Seedrs, slightly fewer than 15% have hit their targets. In other words, starting from 0% funded, you have about a 15% chance of making it.
Those startups that managed to raise just 1% of their target saw their odds of hitting 100% increased to slightly over 27%.
The ones that hit 5% had nearly a 50-50 chance of making it all the way.
Those that made it to 10% saw their odds increase to over 70%.
Making it to 20% brought the odds above 80%.
Startups that made it to 30% had a 90% chance of funding.
And, perhaps most importantly, every single startup thus far that has hit 35% has gone on to get their full 100%. 
What has become apparent for rewards based crowdfunding platforms such as Indiegogo and Kickstarter holds true for equity crowdfunding – at least in the UK.  The probability for success increases dramatically if you hit the 30% mark early.  Effectively it is contingent upon the crowdfunder to assure their network is supporting their crowdfunding campaign to guarantee the amount.
Seedrs continues this thesis by explaining the justification behind the 30% watermark.  First – investors want to see that the entrepreneur has done the hard work to create the network and deliver the results.  The second is the herd mentality which occurs so frequently in other situations.
Seedrs presently has a network of 17,000 investors registered on their platform.  But just because an investor is registered – does not guarantee they will commit to your business.