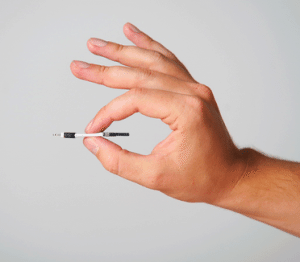 If you're a regular reader of Crowdfund Insider you've heard us say it a thousand times: Whether raising $100 or $32 million, there are a handful of basic tenets that underly almost all crowdfunding success stories.
Take the CulCharge as an example. A small two-person team from Slovakia has raised over $50,000 on Indiegogo for what has to be one of the world's smallest USB cables. The product obviously struck a chord to the tune of 2300+ backers.
Upon further examination of the campaign, a few things stand out…
The choice of Indiegogo was one of they keys to their success
One major difference between Kickstarter and Indiegogo is that Indiegogo allows for bulk rewards, and that played a role in this campaign's success. Over $10,000 in pledges came via rewards levels that included 30 or more units.
Marketing is key
The campaign page for the CulCharge is extremely detailed and visually appealing. This has a psychological impact in the minds of potential backers. A polished campaign page conveys seriousness on behalf of the product and the team that stands behind it, and a backer wants to know the team is serious when they're pledging money with no true promise of reward.
The CulCharge campaign incentivized sharing
Through an innovative contest, the user who referred the most visitors to the CulCharge campaign page on any given day will receive a free CulCharge. It's a relatively small price to pay for the reach the campaign has been able to gain.
Goodbye borders
A small team from Slovakia used an American crowdfunding to garner pledges from all over the world. Need I say more?
Hello pretail
Crowdfunding is changing the way products are introduced to the market in a big, big way.
With these things in mind, I reached out to the CulCharge team and asked about their approach to this campaign and how they found success. There were some really interesting revelations that came from their answers. The interview is below in it's entirety…
What was the inspiration behind the CulCharge? What made your team decide that this was the right time for this device?
We like to travel, and we need our smartphones all the time, since they became important and necessary part of our private and business lives. We noticed, that common problem during our trips, wherever we go, is weak batteries of cell phones of all our friends. We decided to solve this for us and everybody else, and crowdfuding was perfect way to make this solution real. And here comes CulCharge.
Tell me a bit more about yourselves. Why should the crowd should be confident that this team will deliver on their promise?
We both graduated with M.B.A. and we worked on many projects from various scopes of businesses. From product design, launching products to the market, through marketing, establishing companies, export, import, e-business, etc. These experiences helped us to create and developed CulCharge, and everything related to this Crowd-funding project. So far, everything goes well according to our plan, which proves our qualities and enthusiasm about CulCharge.
According to the campaign page, development of this product really started in January of this year. You plan on delivering in November. That is less than 12 months from idea to fulfillment, an aggressive timeline to say the least. How hard has it been to see this product through thus far? Any big hangups along the way? 
What you can see today is result of months of our hard work. Of course, we had to involved few people, which helped us with particular parts of the project. We stopped all of our previous activities and we are fully concentrating on CulCharge. Otherwise it would not be possible to succeed on field of crowd-funding, and probably anywhere else.
Why did you choose Indiegogo for your campaign? Any insight you'd like to share regarding your experience with that platform in particular?
We were considering Kickstarter and Indiegogo from the beginning. However, Indiegogo won since we were able to start project from Slovakia and we were able to offer CulBox perks.
Your Indiegogo pitch really comes across as well-polished and well thought out. Did you work with a marketing team on the creation of the pitch, video and info page? Can you share who you worked with on marketing materials?
Thank you. We did not cooperate with any marketing team so far. Since we both studied Management and Marketing, and had experiences from many other projects already, we created our campaign on our own. Moreover, we do not really like when somebody tell us what to do ? Real scenes from video was shot by our friend, professional cameraman. Rest of the movie was made by us. We learned lot of new things since we came up with CulCharge idea.
Any tips for future crowdfunders on how to run and execute a successful campaign?
Study successful and unsuccessful crowd-funding campaigns so that you can see what works and what does not. Read as many materials, interviews as possible. It takes months to prepare good campaign. Do not underestimate details. Get ready to success. If you succeed, there are another months of hard work to make your project real. Get ready to fail. There are just few projects that succeed. If you fail, do not give up! Learn from mistakes and try it again!
Finally, is there anything you'd like to say to the 2000+ backers of your campaign?
THANK YOU! For your support, positive notes, advises, likes, shares, trust and opportunity to make CulCharge real! We are looking forward to deliver you best possible product!
Have a crowdfunding offering you'd like to share? Submit an offering for consideration using our Submit a Tip form and we may share it on our site!