Cynical pundits decry crowdfunding as a tool for fraudsters and scammers to fleece an unknowing public of their hard-earned money. The truth is that crowdfunding platforms have a robust and evolving fraud detection system already in place, and these systems work today.
I visited Indiegogo's headquarters during a trip to Silicon Valley earlier this year. I discussed the platform with David Abramovich, listed as one of Indiegogo's campaign specialists. Indiegogo (like many crowdfunding platforms) has an in-house team whose focus is detecting and handling fraudulent campaigns. The truth is they have to. Indiegogo is, both in my own opinion and as far as facts can suggest, the most open of the large crowdfunding platforms. With this openness comes a responsibility to be vigilant about fraud.
Inevitably Indiegogo's backers and visitors play a crucial role in fraud detection and prevention. This is not a bug in crowdfunding; rather, it's a feature. This is why campaigns raise money over time. Yes, it provides campaign creators valuable time to seek funding online, but it also provides the crowd with time to perform their own due diligence.
In the case of one recently stopped campaign, it was a clear case of fraud. Piggybacking on the recent success of the Pirate3D printer on Kickstarter, fraudsters launched a copycat campaign for the "Burclader" printer.
Pirate3D caught wind of the campaign and posted a warning to their followers on Facebook.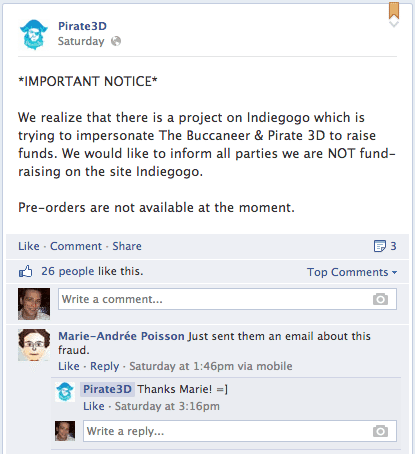 Pirate3D fans and followers reported the campaign to Indiegogo. It was gone within hours.

It is important to note that failure is not fraud and that instances of crowdfunding fraud are extremely low, even in the fast and loose rewards-based world. It takes a combination of a watchful public eye and vigilance on the part of the platforms to make sure of this, but the ecosystem does work. In the end, caveat emptor is key. We'll have more on this coming up this week.

Sponsored Links by DQ Promote