Curation in crowdfunding carries some risk. Does it carry some responsibility as well?
On August 14th, 2013, Kristin "MK" Ducote, author of the racing novel, Naked Paddock, along with her husband, professional racecar driver, Chapman Ducote, and their publishing company, War Chest Publishing, LLC, filed an Amended Complaint in New York federal court against the crowd-funding website, Kickstarter, Inc, for unfair and deceptive consumer business practices, the unconscionability and breach of its own Terms of Use, breach of implied covenant of good faith and fair dealing, tortious interference with prospective business relations, and defamation.
Kickstarter takes a hands-on approach to what is and what is not allowed on their crowdfunding platform.
In curating campaigns, Kickstarter bears a certain responsibility with each and every deal on their platform. When a seemingly blatant fraud takes place on Kickstarter (exhibit A: the MD-Pen), it bears mentioning that someone at Kickstarter HQ gave the OK to that campaign in some way.
One little-known fact about the world's largest crowdfunding platform may be that Kickstarter has an F from the Better Business Bureau. Among the reasons for that F rating: "Failure to respond to 6 complaints filed against business."


Those complaints that are public have to do with Kickstarter customer support being unresponsive. They also refer to non-delivery of projects.
Kickstarter is constantly juggling the responsibility that comes with their approach to curation. Genetically modified organisms? Funded, then banned. Sex guides? Funded, then banned and apologized for. Hardware projects? "We are not a store."
In short, one could objectively determine that there are no clear guidelines on Kickstarter. Indeed, Kickstarter's Guidelines is a living document in and of itself, and the application of those guidelines is left to the discretion of Kickstarter's in-house team.
As a privately-held company, don't they have the right to police as they see fit? Well, we may find out following a lawsuit filed against Kickstarter in the State of New York. The plaintiffs take issue with Kickstarter's decision to pull the plug on their campaign.
The Ducotes allege that Kickstarter arbitrarily, irrationally, and/or in bad faith suspended their crowd-funding campaign without notice just days after having reviewed and approved the campaign for launch and just as the campaign was poised to take off due to the Ducotes' highly publicized appearance on a wildly popular television show.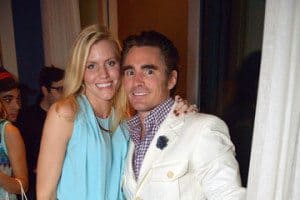 The Ducotes say that they invested their own time and money in the campaign. They aren't ready to chalk it up to a loss and want to use their situation as leverage to force more transparency on behalf of Kickstarter in the future.
"To have a successful campaign on Kickstarter, you need to devote an incredible amount of time and resources to your project," M.K. Ducote said. "Like thousands of other people, we did everything we could to ensure the success of our campaign. We carefully studied Kickstarter's published guidelines to make sure that our campaign met them. We put together a video, we contacted hundreds of friends and family members, we even hired a PR firm to get as much exposure as possible for our campaign. Not only that, but we also timed the launch of our campaign to capitalize on our appearances on one of the most popular television shows in the world. Kickstarter shouldn't be able to pull the rug out from under you for no reason, especially after having previously reviewed and approved your project based on Kickstarter's own advertised policies and guidelines. Not after you work so hard and invest so much into your campaign in reliance that they are playing fair."
A similar situation popped up recently with a campaign launched by Juan Carlos Mendoza. According to Mendoza, the campaign was cancelled by Kickstarter and it seems the decision was made with little to no correspondence. Don't take my word for it. They made a video about the situation in which Mendoza apparently shows up at the Kickstarter offices.
Rose Spinelli did an excellent job covering Mendoza's story in her "Open Letter." Mendoza and his team later relaunched the campaign on Indiegogo. It would eventually fail.
To be fair, Kickstarter's Terms of Service do reserve Kickstarter the right to deny service at any time for any reason.
"The Company reserves the right to change, suspend, or discontinue the Service (including, but not limited to, the availability of any feature, database, or Content) at any time for any reason. The Company may also impose limits on certain features and services or restrict your access to parts or all of the Service without notice or liability."
The point is this: Kickstarter is a powerful force in the crowdfunding industry, and as the old adage goes, with great power comes great responsibility.

Does Kickstarter have a responsibility to be transparent in why they choose to deny service?

Kickstarter's ethos is very much steeped in the principles of transparency, good will and helping your fellow human being do amazing things. There seems to be some question as to whether the platform itself reciprocates those same feelings 100% of the time, and that sentiment may just have its day in court.

The amended complaint is below…

Sponsored Links by DQ Promote