Indiegogo + Raindance to be at TIFF Party.
Indiegogo is kicking off their partnership with Raindance Film Festival and Schools next month by participating in Raindance Toronto's Toronto International Film Festival (TIFF) Industry Party.  The event also features a $2000 prize for a Pitch Video Contest.  Indiegogo's film lead John T. Trigonis will be on hand sharing advice and insight into the magic of crowdfunding film.  Trigonis is also the author of "Crowdfunding Film:  The Way to a Successful Film Campaign".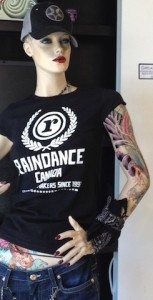 Film crowdfunding has been a lucrative pursuit for not only Indiegogo but many rewards based crowdfunding platforms.  Indiegogo wants to foster independent film makers by enhancing the work of Raindance.
Starting in 1992, Raindance hosted their first film seminar with Hollywood maverick Dov Simens.  The film festival was soon to follow – many hit films have premiered at their events including; Pulp Fiction, Memento, the Blair Witch Project, Ghost World and Love Exposure.  In 1998 Raindance launched the British Independent Film Awards (BIFA) which has become a premier event for the film industry in the United Kingdom.  Raindance also dedicates much time in training new and established filmmakers in all aspects of film.  Some of their alumni include Guy Ritchie, David Yates (Harry Potter), Christopher Nolan (Batman Begins) and Matthew Vaughn.
Raindance dipped into the crowdfunding world by launching their first original crowdfunded film on Indiegogo which was featured earlier this year. Love, Honour, Obey was successfully funded by 140 contributors donating £13,674 on a goal of £10,000.
The event in Toronto will be held on September 9th and Indiegogo and Raindance hope to see you there.
Event Details Below:
What: [email protected] Industry Party and Pitch Contest

When: Monday September, 9th, 2013 @ 7pm EST (to 12am EST)

Where: Blackline Studios, 577 King West, Toronto

Why: You love film (and want to meet John T. Trigonis)
Sponsored Links by DQ Promote