SXSW has an interesting approach to putting together the panels for their annual gathering.  They have a Panel Picker application on their site where visitors may vote to nominate the auditioning presenters they would like to see.  So in effect – crowdsourced feedback.  Mega crowdfunding site Indiegogo is like the rest of us and have to tally up the votes to get on the agenda as well.  Therefore they are asking all of their fans – or those just interested in the topics they presenting – to help out and indicate Indiegogo is the presenter of choice.
This year they have posted four sessions covering the topics of; Interactive, Film, and Music Festivals.  All perfect for the SXWS crowd.  They had a great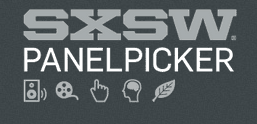 time last year (see wrap up video below) and expect to have more fun in 2014.
So if you are planning to hit Austin next year and participate in all the excitement, creativity and craziness of SXSW AND want to hear about the Indiegogo way – here is your chance to help out.
INTERACTIVE: You Raised Crazy Money Crowdfunding — Now What? 

More and more entrepreneurs are turning to crowdfunding to raise capital for their product or business, but there's more to it than just the money. Indiegogo's Kate Drane will be joined by an all-star cast (including an Indiegogo campaigner) to talk about what happens after a crowdfunding campaign ends and how to successfully approach fulfillment. VOTE!

FILM: Crowdfund a Simple Idea to the Silver Screen

Indiegogo's John T. Trigonis wrote the book on crowdfunding for filmmakers — literally. He'd like to impart his vast knowledge with the film community that descends upon Austin for SXSW and help filmmakers of all levels bring their projects to the big (or small) screen.VOTE!

MUSIC: How Crowdfunding Connects Musicians With Fans

SXSW likes its music. A lot — and so does Indiegogo. Our soul-singing and headbanging head of music, Karen Bair, will take the stage with The Artery Foundation and Outerloop Management to discuss the growing presence of crowdfunding in the music industry and how best to turn fans into crowdfunding contributors. VOTE!

INTERACTIVE: Make it Rain: The New Healthcare Funding Landscape

With healthcare expenditures rising around the world and technology advancing rapidly, the health startup market has become a hotbed for cutting-edge innovation — and fierce competition for financing. Indiegogo's Amy Lesnick joins VentureHealth's Andrew Farquharson and Rock Health's Halle Tecco as they explore the funding landscape for healthcare startups and crowdfunding's fast emerging role. VOTE!
Sponsored Links by DQ Promote