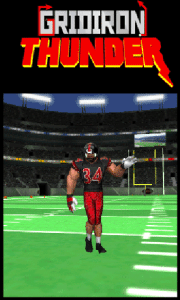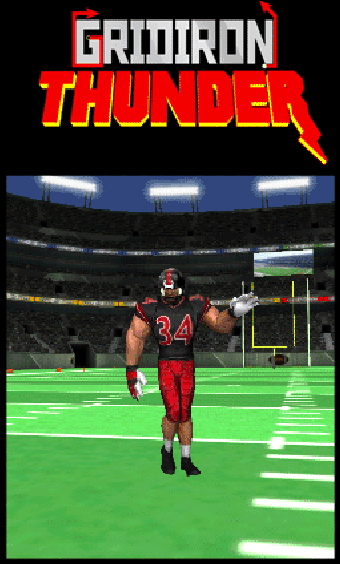 As we have previously reported, Gridiron Thunder is crowdfunding on Kickstarter having surpassed their goal of raising $75,000 they stand at almost $100,000 raised as of today.  The video game is taking part in Ouya's #FreeTheGames fund which offers matching funds in support of games which surpass a funding level and commit to Ouya exclusivity.  It's a pretty good deal for game developers – hit $50K and you get matching funds.  The exclusivity is only for 6 months.  There is a kicker too.   Ouya is offering an additional $100,000 to the qualifying campaign that raises the most money during the Free The Games Fund period.
Gridiron Thunder is a project by MogoTXT based in San Francisco.  As the campaign took off there was some questions by some backers regarding the propriety of some of the contributions and, as will happen from time to time, the invective began to fly.
At one point the gloves came off and legal action was threatened in a post which has since been removed from the public comments as organizers took umbrage to a post by a commenter named "Tyler Durden".

The threat of a lawsuit is something that no one ever enjoys and the tone of the post was intimidating, to quote:
"You have crossed some very serious lines here that go far beyond making a reasonable post on a community-oriented website.

Unless you come forward, reveal your true identity to everyone, and publicly apologize to us for your statements by 9:00 a.m. PDT tomorrow, we are going to identify you through KickStarter, track you down, and bring legal aaction against you for your actions.

Let us be very clear with you so that there is no misunderstanding.  This is not some idle threat. We will find you and commence legal action against you for what you did."
Ouch.  The comment which is labeled from Creator MogoTXT can be seen here.
Threatening backers – or commenters for that matter – was understandably not received with overwhelming gratitude.
Now we have a posted comment labeled Ameon Entertainment stating they are the target of a lawsuit which may be filed:

Ameon is a game development and training facility located in Sacramento, California.  Founded in 2010 they train, recruit developers for the gaming industry – certainly a noble pursuit at face value.  Steve Favis – the responder on the Ameon thread is listed as CEO of the organization on his LinkedIn profile.
The correspondence between Andrew Won, CEO of MogoTXT, and Favis can be viewed at this link here – same as posted above.  It ends with a statement from Favis saying:
Below is a statement from Steve Favis, Ameon INC regarding this matter:

This is simply a statement, a public statement nor an admission of any sort of the above accusations/ allegations.

First of all IF kickstarter discloses me (Steve Favis) as the above poster then there is some serious security/ confidentiality issues within their system as within 4 hours of this "Tyler Durden" Post, MojoTXT managed to pinpoint me as their 'Tyler".

If Kickstarter managed to have their system breeched and my usage stats/network footprint name placed in for 'Tyler's Durden's" login credentials then Ameon, INC will be pursuing legal action on Kickstarter for their system getting breeched/hacked/pseudo'd as it has clearly caused damages to Ameon, INC.

Second, to MogoTXT and Chucklenauts congratulations on your successful kickstarter campaign.

Favis / Ameon claim that Won's statement that Favis is "Tyler Durden" – the commenter on the Kickstarter campaign threatened with legal action – is false.
Now if you can keep all that straight on a holiday weekend you are doing better than most.
Ouya – for their part – has stayed above the fray taking the high road saying they just want cool games for Ouya.
Ironically the Gridiron campaign has grown more than a bit since this all started.  So if any publicity is good publicity perhaps this is proof of that truism.   There is even a post from "Julie" (Ouya CEO's name is Julie Uhrman, account is most likely a spoof) lauding a recent $10,000 contribution and providing a graph of daily contributions for the past few days.  The post included a graph of incoming contributions which is originally from Kicktraq.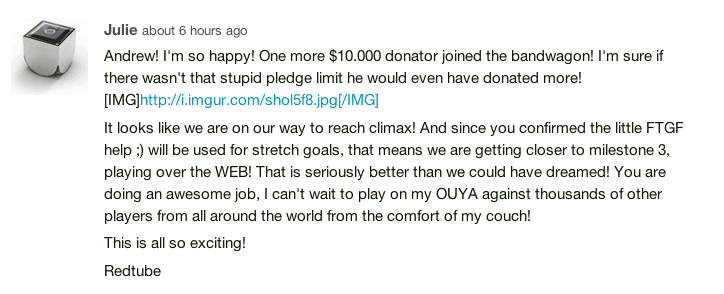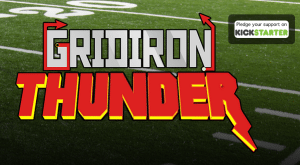 I am not certain if a crowdfunding campaign can generate any more drama than this.  Perhaps cooler heads have prevailed and this will all go away.  Or maybe not.  Either way – have a nice Labor Day weekend.
Update
A new post from Ameon Entertainment was added to the Kickstarter comment thread earlier today.  In the note, posted below,  Ameon indicates no notice of a pending lawsuit has been received.   So perhaps the long weekend allowed things to cool down a bit.  Probably all the better for both the MogoTXT crowdfunding campaign and everyone else involved.  With four days left in the fund raising project – it is probably best if all energy from MotoTXT is focused on making these final days count.

Have a crowdfunding offering you'd like to share? Submit an offering for consideration using our Submit a Tip form and we may share it on our site!

Sponsored Links by DQ Promote