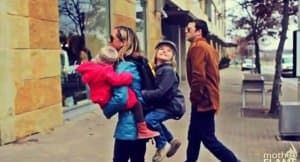 Erick Jansen and Nathan Jones successfully raised $31,752 on Indiegogo for their take on the child carrier, which they dubbed the "Freeloader." Jansen had a background in the outdoor industry as a retailer and product manager, and he met Jones on the job as both are Austin-area firefighters. The duo teamed up to design what they deemed as a better child carrier that was compact, lightweight and safe.
According to a recent campaign update, Indiegogo backers will be receiving their units soon, but this isn't the only exciting news out of the Freeloader camp. A recent Shark Tank appearance netted the company a $200,000 investment from shark Robert Herjavec, coming in exchange for a 33% equity stake in the company. The funding came at a steep price considering the team's desire to raise the cash for a 15% stake, but in the end they decided to take the cash and grow the company.
As the sharks often do, they were critical of the design, expressing concerns that the product wasn't comfortable for parents. They were also acutely aware of regulations around products like the Freeloader, and Mark Cuban in particular pointed out that funds should be spent on R&D and testing instead of buying inventory. Despite concerns about liability, in the end the concerns weren't enough to keep all of the sharks out.