Entrepreneurs who want a flexible crowdfunding site where they can keep any money they raise usually choose one of two platforms: Indiegogo and RocketHub. Both of these platforms allow anybody to post projects and their fee structures are similar. So which site is a better choice?
The comparison tool at CrowdsUnite allows you to see the two main differences between the sites: monthly visitors and user ratings.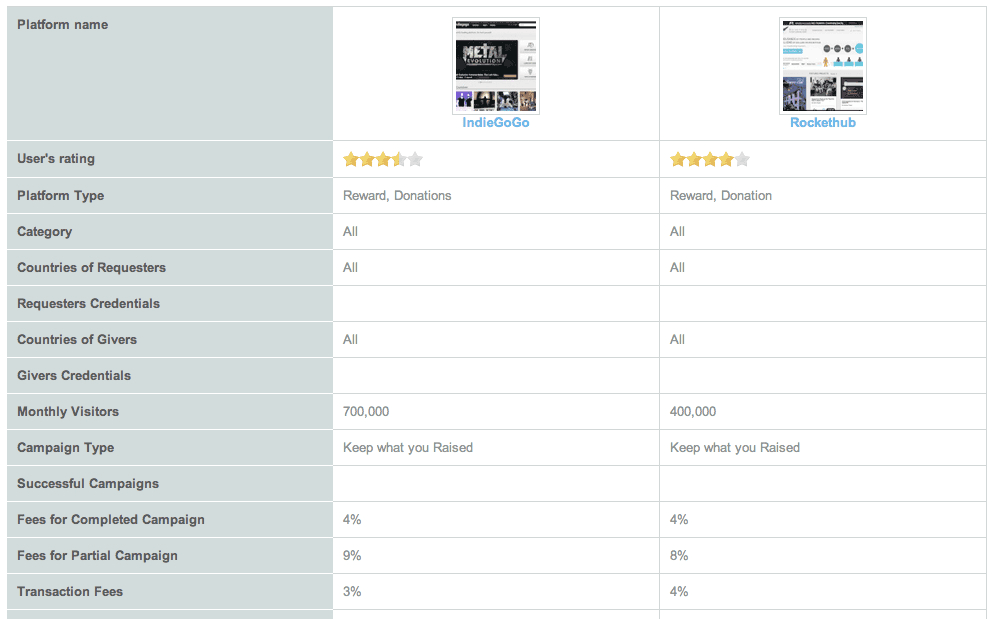 Let's look at the breakdown of the ratings for both sites.
Indiegogo:

RocketHub:

Both sites received only 2 out of five stars in the category called "Funding From Strangers." This suggests that on both sites most funding comes from people the campaign owners already know, and that number of monthly viewers is not that important. Also, it's important to recognize that having more visitors doesn't mean Indiegogo is reaching a broader audience; it's probably just a result of the site having more projects.
Rockethub , however, did score much higher in both the "Customer Support" and "Ease of Use" categories.
Below are a few of the accolades that RocketHub received from its users:
I enjoyed the open and very helpful communication with their staff! The analytics are also useful and easy to use.
Building your project page is a little time consuming but they give you so much information to help make your project as successful as possible. I also emailed them a couple of times with questions and they responded almost immediately with informed and encouraging advice.
It is no surprise that Rockethub scored higher on "customer support"; since they have fewer projects they are able to get personally involved with many of them and devote more time to helping campaigns.

As crowdfunding platforms become more commoditized, ease of use and customer support are the factors which will help separate the cream from the crop. With its high rankings in these two areas, RocketHub is the logical choice.

Sponsored Links by DQ Promote