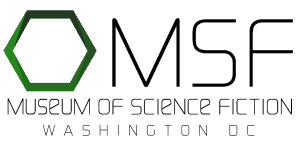 The Museum of Science Fiction is crowdfunding to allow the public to join in the building of this innovative museum dedicated to human imagination and its ability to shape our future. The campaign hopes to raise $160,000 in 38 days.  Organizers see the real value in the campaign will be the statement of support and enthusiasm from one of the world's greatest fan bases.
The plan is to use the crowdfunded contributions to
develop a storefront preview museum in Washington, DC. Today, the Museum of Science Fiction is an all-volunteer non-profit organization, with a group of more than three dozen professionals working to turn the dream of a museum devoted to science fiction into reality.
"The preview museum is designed to give people a sneak peek of what's coming. It will allow us to collect visitor opinions and validate our planning activities and design assumptions to make sure we 'get it right' when the full-scale museum is built"

"We believe Washington, DC is an ideal location for a museum dedicated to science fiction, based in part on the remarkable draw the District's museums have for people from all over the world. Indeed, one of the most popular museum destinations worldwide is the Smithsonian's National Air and Space Museum, and those who took humanity into orbit were inspired by science fiction, from Jules Verne to Star Trek," said Greg Viggiano, the museum's executive director. "If the project stays on schedule, a full-scale facility could open by 2017. In the meantime, we are planning to launch a small preview facility in late 2014. This 'pop-up' site will be the place to test exhibit concepts and share an insider's look into the process of building the museum itself."
The leaders envision the Museum of Science Fiction as home to an array of objects and experiences that share the history of science fiction. Because the genre is so encompassing, the organization's goal is to have a diverse collection of artifacts, display objects, and interactive exhibits that span many varieties of art forms. Visitors will be able to look at cherished manuscripts and interact with exhibits. There will be robots, time machines, aliens, and creatures, as well as costumes, sets, props, and model spaceships.
"Over the past six months, a diverse team of 38 volunteers has come together to develop a long-term plan that will make this museum a reality," Viggiano explained. "We've made significant progress on everything from curatorial aspects such as gallery design and visitor experience, to the non-profit management areas of development, project management, education, information technology, public relations, marketing, finance, accounting, and legal compliance."

"You need look no further than the popular fan conventions that occur almost every weekend to see that the power of the science fiction fan is undeniable. No other genre enjoys the same level of loyalty and support, and this campaign is a statement of support directly from the fans," Viggiano said.
The Museum of Science Fiction will start with a 3,000-square-foot proof-of-concept preview museum to demonstrate the potential and capabilities of the full-scale facility. This will allow the general public to help the organization fine tune its ideas and plan in accordance with their expectations.
The preview museum will house a sample collection of artifacts and display objects from film, television, literature, and art, along with prototype analog and digital interactive exhibits. The preview space will also host the museum's first public lectures, education programs, film screenings, and donor events.
Commercial real estate advisory firm Newmark Grubb Knight Frank is working with the Museum of Science Fiction to identify an ideal site for the preview museum, with a focus on securing a highly visible location accessible to the 50,000 visitors who come to Washington, DC each day.
Virginia-based museum design and construction firm Color-Ad is already working on concepts for the preview museum, which is planned to open in late 2014.
Once fully realized, the Museum of Science Fiction will be the world's first comprehensive science fiction museum to cover the history of the genre across the arts and provide a narrative on its relationship to the real world. The museum's mission is to be a center of gravity where art and science are powered by imagination. It is through this intersection that the museum will reach visitors both young and old. The museum will also host educational programs that encourage and inspire students to pursue careers in science, technology, engineering, the arts, and mathematics.

Have a crowdfunding offering you'd like to share? Submit an offering for consideration using our Submit a Tip form and we may share it on our site!