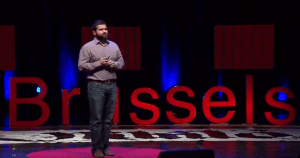 Slava Rubin, Indiegogo CEO, presents at the TEDxBrussels conference and shares that he actually lived in Belgium for awhile reminiscing about the beer, food and country.  The title of his presentation is, "The Future of No is Yes".
Slava discusses how our society is set up to say no.  You need to know the right banker or the right venture capitalist – or they say no.
For the last 100 years – the process was built upon who you know.  He revisits a common theme that he uses regarding the crowdfunding process for the Statue of Liberty and how the technology of the time,  a newspaper, was used to raise the funds.  Another good example about the power of crowdfunding was the Turkish democracy movement which crowdfunded a full page ad in the New York Times.  Slava shares additional insight and examples of crowdfunding on Indiegogo.
Indiegogo and their brethren are working on addressing the challenge of no – with their platforms and the power of crowdfunding – to change.
It is definitely worth 15 minutes of your time.
_______________________________