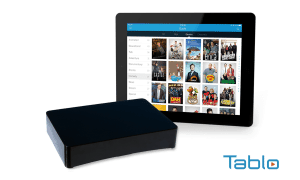 Most of us dread receiving the monthly cable bill.   Thousands of channels means 100's of worthless content we never watch (or at least never should watch).  The cable cutting trend is picking up stream as consumers realize there is a better way where  the user is in control choosing what we should be watching – and at a much lower cost.  And why should we have to pay the next pathetic reality TV show?  Well now the arsenal has grown with the release of Tablo.  A device that allows free, Over the Air (OTA) high definition TV content without the cable bill agony.
Tablo is crowdfunding now allowing access from early adopters with at a rewards level of $149.  Estimated delivery is January 2014.  The fixed funding campaign on Indiegogo is attempting to raise $50,000 as part of a pretail project.  Beta testers will of course be asked to share feedback so to influence the final development stages.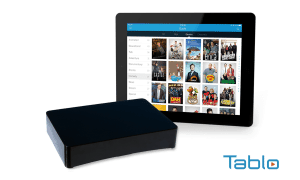 Coming from Canadian company Nuvyyo,  Tablo also combines the functionality of a DVR AND the mobility of a tablet based app which allows the user to browse, record and stream content anytime, anywhere.
It works on both Android and iOS devices along with your PC or MAC.  You can also stream it to your Apple TV, Roku or Google Chromecast.
"We are transforming today's home media experience by delivering a better way to enjoy network and local programming in gorgeous HD, anywhere you happen to be," said Grant Hall, CEO of Nuvyyo. "For TV lovers, Tablo takes away the fear of "cord-cutting" by perfecting the user experience with our tablet app and delivering the DVR functionality everyone knows and loves."

Based in Ottawa, Canada, Nuvyyo was founded in 2010 with the vision of reinventing the home media experience in the post PC era for consumers in the U.S. and Canada.  Nuvyyo has announced $4 million in venture backing from Celtic House Venture Partners.  Pledges raised during the Indiegogo project will be used to fund initial production runs of the hardware so that the $4 million in venture backing Nuvyyo has received can be earmarked for sales and marketing support of the general product launch in the U.S. and Canadian markets.
"The TV industry is in an exciting period of innovation with a diversity of new services and business models. Internet-based video is taking off and free OTA HDTV, with better quality than satellite or cable, is now widely available," said Celtic House partner Brian Antonen. "We believe Nuvyyo has the right mix of technology and expertise to address these trends with a solution that adds free broadcast TV to the internet video experience so that live and recorded HDTV can be enjoyed on mobile devices as well as the traditional big screen TV."
Curious as to how many channels you will have access to before you take the plunge and leave high cost and crappy content behind?  Check out how many OTA free channels you could be getting w/Tablo, by going to Free TV Map and entering in your zip code.
Have a crowdfunding offering you'd like to share? Submit an offering for consideration using our Submit a Tip form and we may share it on our site!