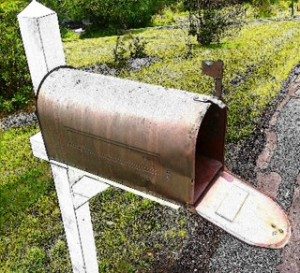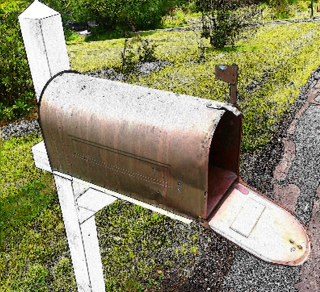 We have quickly moved into the gifting season as we go from Black Friday to Small Business Saturday to Cyber Monday and Giving Tuesday.  Perhaps a Crowdfunding Sunday?
We all know that Kickstarter does not want to be known as store but the truth is that users have come to treat it as such.  Many crowdfunding campaigns are strategic pretail offerings for products which otherwise may have not seen the light of day. But crowdfunding is more than just pretail.  It is funding of dreams – for philanthropic objectives and entrepreneurial endeavors. For  artistic projects and to help those in need.  So please do consider using crowdfunding as a gift for someone this holiday season.
Toymail is a super cool toy for kids.  Kids today grow up playing with iPhones and iPads and many other types of technology.  The intuitive nature of these devices lend themselves to learning and interaction.  Toymail does this as well and it uses a unique approach.  The device allows you to send a voice message using the associated app from anywhere in the world.  Young kids aren't quite ready for the world of texting and email but sending them a voice mail to let them know you are thinking of them is pretty amazing. Kids may even reply back to you using this toy.  Even better this is scheduled to ship in December which means you may be able to include this product under this years Christmas tree.  Coming from two ladies in Brooklyn, New York – Guari Nanda and Audry Hill, they are definitely on to something big.  The crowdfunding campaign closes on Monday so hurry up if you want to have one of these for this Holiday season.
Quebee is your own personal cameraman.  Set this camera up and you have 5 hours of video recording.  It syncs directly with your iPhone where you can control all of your videos which are seamlessly pushed to the cloud.  We all shoot videos on our phones these days.  This takes it to the next level and let's you shoot the video on a continuous basis allowing you to share / edit / whatever later.  Water – resistant too.  The Quebee is crowdfunding out of Auckland, New Zealand.  Watch the pitch video.  Love the product.
If you suffer from a chronic illness than you really understand the daily challenges of constant pain and suffering.  Necessity is the mother of invention and Lindsay Pera, from San Luis Obispo, California endures chronic illness herself. Because of her personal challenges she set out to do something about it and has now created an application to turn Chronic Illness into Chronic Wellness.  Altering your lifestyle and identifying things that improve your existence can give people who suffer from chronic illness a sense of control – and hopefully improve their life.
Finally we have amphiro a1 – a self powered water meter that helps you conserve both energy and water.  Amphiro AG, based in Zurich, Switzerland, has already captured significant success and exposure in Europe.  Having tested in the product in hundreds of households – proving the amphiro pays for itself in less than one year –  the team wants to take the device up to the next level and bring it to a much wider audience.  The first version of amphiro has sold 7000 units in Switzerland alone.  The goal is to have an app which integrates with the device so you can track usage over time.  The project is supported by the Swiss Federal Office of Energy – no less.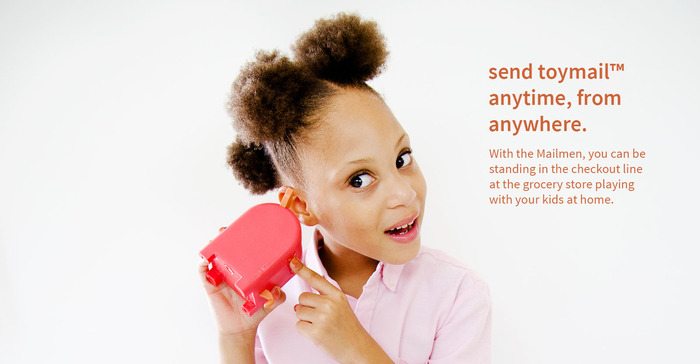 Send mail to kids' toys from your phone. Our toys will speak them back in their funny voice, or yours. Kids can reply too!
Send messages to kids, through their toys. 
It's called Toymail. It's like voicemail or email but way more fun because your messages are sent to toys to speak back. Parents, grandparents, cousins, neighbors, friends (really, anyone who matters) can stay connected to kids they love using Toymail.
Think of our toys as messengers. You simply record a voice message using our app from anywhere in the world, hit send, and our Mailmen™ toys will speak them back in their funny voice (or yours). And, kids can reply to you right from their toys. So whether you're a mom at work, a dad in the checkout line, a friend down the street, or a grandma an ocean away, you can stay connected to the kids you love.
Order our toys here and you will get 10% off + free shipping!  Our campaign is super short because we want to leave time to ship for the holidays.  Please help support us now 🙂
Meet our Mailmen.
The WIFI enabled Mailmen™ are a new breed of smart toys that connect wirelessly with your home WIFI network to receive messages sent anytime, from anywhere in the world.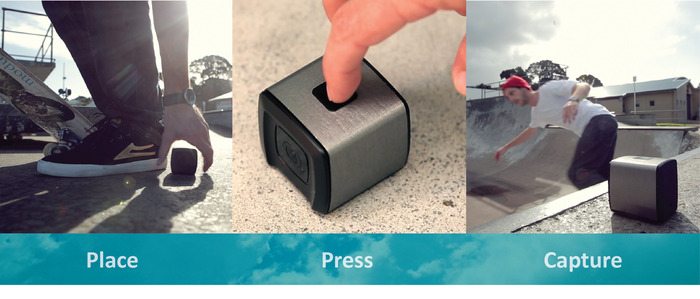 Quebee is the personal video camera that allows YOU to be in the moment. It's your own personal camera man – you are part of the show.
The way we capture personal video is about to change
Are you sick of shaky one dimensional videos taken from your smart phone? Perhaps you are fed up with holding the camera and not being part of what is happening? Ever wish you could just enjoy the moment without worrying about capturing it?
Meet Quebee – your own personal camera man, enabling you to be in the moment. No more standing on the sidelines, it's time for you to be part of the action!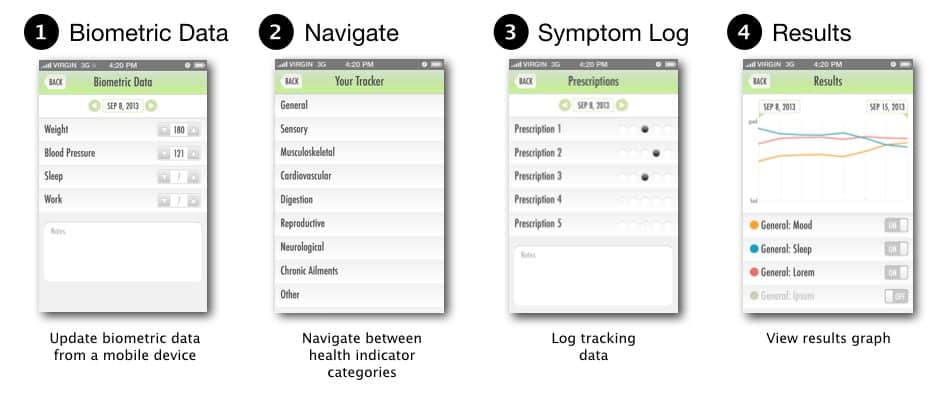 Help us build a mobile app that empowers people to fight back against chronic illness.
Our online health-tracking tool is already helping people take control of chronic illness. 
Now we want to put it into the hands of even more people by building a companion mobile app.
To do that, we need your help.
Did you know that 50% of the adults in this country have a chronic illness? Chronic illness touches all of us in some way or another. And while chronic illness can take many forms, it often leaves people feeling isolated, powerless, and unsure what to do. But people don't have to feel powerless in the face of chronic illness!
If you have a chronic illness, the more you know about your symptoms, diet, activities… about which treatments work and which do not… the quicker you'll get better.  To help people on their journey to wellness, we created an online tool that makes it easy to gather and analyze this important data. It's a powerful tracking tool that can foster healing through better self-awareness, knowledge, empowerment, and hope. It's called Chronic Wellness Tracker, and you can try it yourself at cwt.ChronicWellnessTools.com.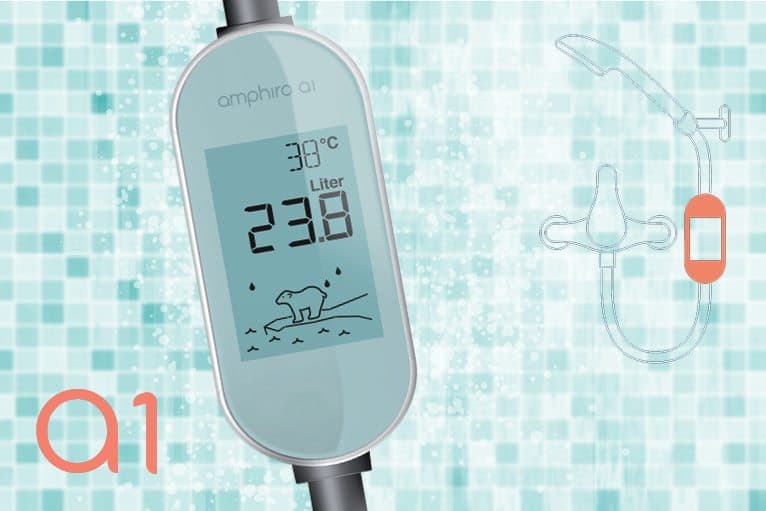 The world's first self-powered shower monitor engages users to save an average of 23% of their thermal energy. Save $135 yearly without giving up your comfort!

The average household uses 2'000 kWh of energy every year only for water heating. This is more than what is used for lighting, cooking, electronic devices and the refrigerator together. Every morning, you can influence a large part of that energy usage – in the shower. Our product shows your hot water consumption in real time and helps you reduce your carbon footprint in an entertain­ing way. With amphiro a1, the typical household saves 440 kWh of energy as well as 8'500 liters (2'250 gallons) of drinking water and waste water – year by year.

amphiro a1 is an innovative design component that perfectly integrates between the shower hose and the handheld shower head. More than 7'000 units have been sold in Switzerland alone in the first three months after the product launch. A study with 700 households for the Swiss Federal Office of Energy has shown that the device yields average savings of 440 kWh of heat energy and 8'500 liters (2'250 gallons) of drinking water per year and household.

amphiro a1 does not require any batteries. The device is powered by a small generator that harvests the energy for the display and electronic components from the water flow. As soon as water runs through the device, the display switches on and the smart shower meter starts measuring the water and energy consumption.




Have a crowdfunding offering you'd like to share? Submit an offering for consideration using our Submit a Tip form and we may share it on our site!

Sponsored Links by DQ Promote