Campaign Philosophy: Great Experience, High Quality while Redefining Menswear.
We heard about Hucklebury shirts this past
November when we featured the Kickstarter crowdfunding campaign in Mailbox
.  The campaign for premium dress shirts, hand-crafted in the US but selling for wholesale prices, beat their crowdfunding goal.  Prior to the end of the campaign the organizers decided to end the campaign – which was fully funded.  This is not a decision which frequently occurs.  We regularly see projects extend their campaign – whether short of goal or simply wanting more time to generate funds with a successful campaign – but this one was bit different.  We received a note from the Hucklebury organizers as to their decision.
"We prematurely ended our first campaign. Our defense for inconveniencing backers is CUSTOMER SERVICE. When we found ourselves able to drop our price point by 30% after the factory discovered our campaign, we considered running down our campaign and returning the savings to them after. Unfortunately, more than 10% would have been lost in transaction fees, which led to our decision of starting afresh for the benefit of all." 
 The Hucklebury spokesperson continued to comment on the new campaign,
"Our second time around has been a charm. Now, we re-launched our Kickstarter, and reached our goal in less than 2 days."
Hucklebury lowered their crowdfunding goal from $20,000 to $15,000 the second time around.  The first go they captured support from 214 backers.  This time around – with about a week left in the campaign – they have lowered their reward pricing, have 359 backers of today and have generated over $35,000 in campaign contributions.
The Hucklebury team explained they went out of their way to explain the situation with the campaign;
Our decision to pull the plug on a successful campaign was painful to say the least, but our company is founded on the principal of always putting the customer first. As the clock was running down on the first campaign, the maths didn't look very good – Kickstarter and Amazon take over 10% of the funds and returning the savings would incur additional transaction fees. To make sure customers got back all of the savings, our choice to restart the campaign was obvious. 

 

Our strategy was simple the second time around – we explained to our backers what had happened via personalized videos for 214 backers and almost all of them backed us again and helped us to spread the word, to make our second campaign more successful than our first. We owe it all to them!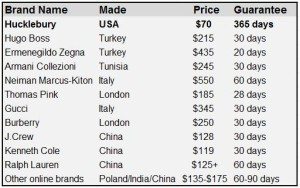 Communication is paramount in any campaign.  Stopping one that is successful and restarting requires an exceptional approach.  It appears their tactic has been successful with their increase in amount contributed to their campaign.
Hucklebury closed their update with the following statement,
We our building a company on the philosophy of delivering a great experience and a high-quality American product that customers can be proud of for many generations.
Have a crowdfunding offering you'd like to share? Submit an offering for consideration using our Submit a Tip form and we may share it on our site!

Sponsored Links by DQ Promote