Indie Game Magazine (IGM) has announced a rather unorthodox partnership with Teespring, a popular crowdfunding platform for t-shirt concepts. A bit of explaining from IGM clarifies why the partnership actually makes a lot of sense…
We receive dozens of emails every day from developers specifically asking for tips about how to go about promoting their games, anxious to start a crowdfunding effort because they don't know what to expect or where to start. We took those emails to heart, and besides adding a dedicated #GameDev section to our Magazine to help fill the informational gap, we've also been searching for a partner to help us offer studios a unique crowdfunding opportunity before/after making the Kickstarter and IndieGoGo leap. We believe TeeSpring is an exact match for that.
This is an interesting concept. A developer can market test a game by pre-selling a shirt based on the game and the developer gets a little bit of cash ahead of launching a campaign for the game itself.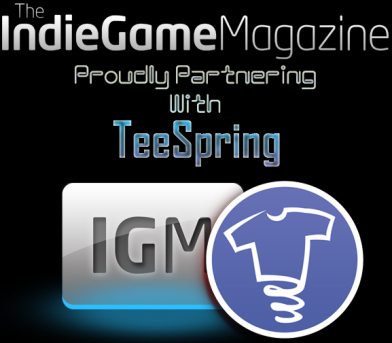 Naturally, crowdfunding cynics are going to waive arms about a game in extremely early stages of development receiving funding – a theme that is becoming more and more common when discussing opposition to crowdfunding. However, in this case early funding will come from a crowdfunding system with a guaranteed reward. It could help to alleviate some of the trepidation some fear is affecting video game funding.
For more on how TeeSpring works, check out our breakdown here. For more on the partnership, head over to IGM.