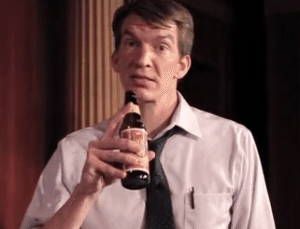 Bills and Brews is a new web series that aims to humanize American politicians by interviewing them in an interesting scenario, that being over a glass of beer from American craft breweries. It's been widely-publicized that the craft brewing industry is taking off here in the US, so what better way to get politicians off the typical rhetoric and talking points than by giving them a frosty mug of beer and asking them about more than tort reform and fiscal policy.
At BillsandBrews.com we also have a pretty snarky blog – Give Em a Brew Already! – that aims to call Washington B.S. exactly what it is: b*** s***. We believe American voters are smarter than our politicians give us credit for. Let's show them we don't need poll tested optics; just a real person, brew in hand.
The series is the brainchild of Matt Laslo, a syndicated columnist that has been covering politics while embedded within Washington D.C. for the better part of the last decade. He took to Kickstarter to fund the series, and yesterday the project barely met a goal of $36,000. None of the interesting stretch goals planned for the campaign were hit, but the series is a go nonetheless
Bills and Brews says Thank You, with a Cheers! http://t.co/QuBatiQcr2

— Matt Laslo (@BillsandBrews) April 14, 2014
The first episode features Democratic Congressman Peter DeFazio of Oregon's fourth district, and it sets a really interesting tone for what we can expect from forthcoming episodes. Rep. DeFazio gets very animated in certain segments, but the discussion is about much more than politics. DeFazio is also a co-chair on the House Small Brewers Caucus, a caucus that also includes a Representative many in the crowdfunding industry know well: Representative Patrick McHenry.
Watch episode one below…
Have a crowdfunding offering you'd like to share? Submit an offering for consideration using our Submit a Tip form and we may share it on our site!