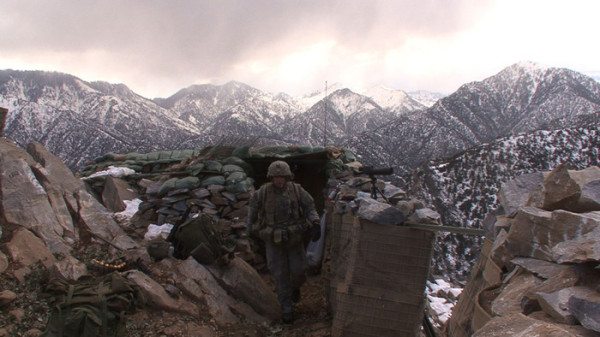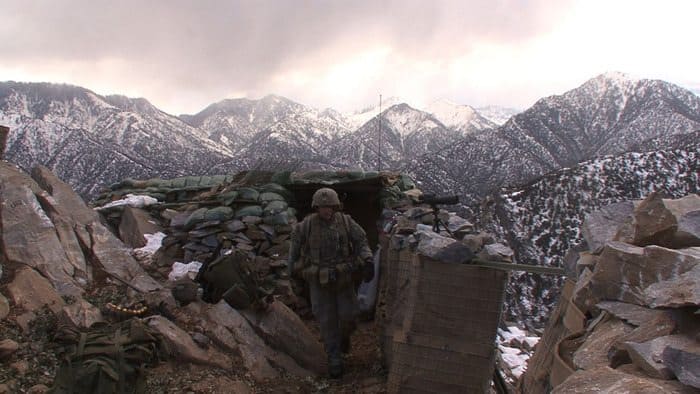 Sebastian Junger and Tim Hetherington co-directed an acclaimed film called Restrepo, which followed Second Platoon for a year in the Korengal Valley, Afghanistan. It was a sobering look at the things American soldiers faced while on deployment.
Junger and Hetherington would shoot about 150 hours of footage over that year, and based on their experiences they produced two books and Restrepo, a feature-length documentary. The film would eventually win the Grand Jury Prize for a documentary at the Sundance Film Festival in 2010. It was also nominated for an Academy Award.
There were plans between the two to create a second film to deal more with the psychological aspects of war. That collaboration never came to pass as Hetherington was tragically killed by a mortar blast while covering the conflict in Libya in April of 2011. However, that second film has just now been completed some three years after Hetherington's death.
The film is called Korengal, and it's now crowdfunding on Kickstarter…
Korengal picks up where Restrepo left off; the same men, the same valley, the same commanders, but a very different look at the experience of war.  Korengal explains how war works, what it feels like and what it does to the young men who fight it.  As one soldier cheers when he kills an enemy fighter, another looks into the camera and asks if God will ever forgive him for all of the killing he has done.  As one soldier grieves the loss of his friend in combat, another explains why he misses the war now that his deployment has ended, and admits he would go back to the front line in a heartbeat. Every bit as intense and affecting as Restrepo, Korengal goes a step further in bringing the war into people's living rooms back home.
The film will debut at the Sunshine Theater in New York on May 30, 2014. The campaign is seeking $75,000 to bring the film to more theaters across the country and help to pay for "bookings, advertising, posters, newspaper ads, a theatrical booker, a publicist, and the distribution coordinator." It's already raised over $35,000 in under 24 hours, so full funding seems a sure thing at this point. Junger has 43 days left to fill the gap.
In memory of Hetherington, Junger also started the noprofit Reporters Instructed in Saving Colleagues (RISC). The organization aims to provide basic medical training to journalists covering conflict in combat zones. That basic medical training may have been able to save Hetherington's life.
Have a crowdfunding offering you'd like to share? Submit an offering for consideration using our Submit a Tip form and we may share it on our site!