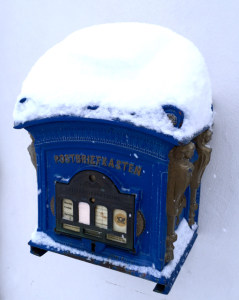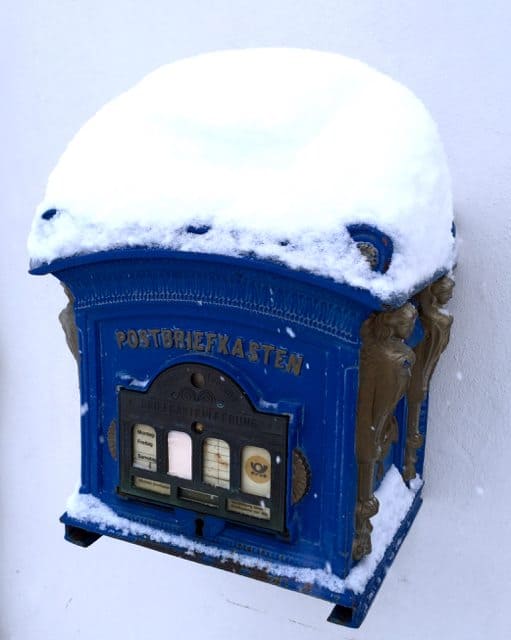 For this weeks Crowdfunding Mailbox we have Crystal Wash 2.0: Clean Laundry with No Detergents, Pump & OMG Audio (headphones) and Desk Candy Computer Stands.
It is hard to think of anything less sexy than washing dirty clothes. But then we all have to wash our clothes – some more frequently than others. While the advent of automated washing & drying machines has improved the process far beyond beating our clothes on rocks – since that time it has not evolved much further.  Can Crystal Wash Proctor Gamble's worst nightmare?
Crystal Wash 2.0 uses bio ceramic balls that claim to increase the Ph level of the water to then naturally clean and disinfect your dirty clothes.  While I cannot attest to this fact, the creators state your clothes will smell great. But even better, you no longer have to douse your clothing in chemicals that eventually get cycled through to water treatment plants and who knows where.  These are high tech devices too, as they come with an App (of course) that let's you know when you need to recharge your bio-ceramics.  And how do you do that? By leaving them in the sun for a good 30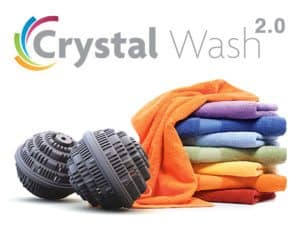 minutes or so.  Is this too good to be true?  Maybe, and there are a few skeptics following the campaign.  Crystal Wash has countered with documentation on the process.  They also claim a 100% money back guarantee.  The campaign has convinced over 1500 backers as of today with plenty of time to go.   Crowdfunding on Kickstarter (a staff pick) and zipping past its $100,000 crowdfunding goal.
I go through headphones like morning coffee.  I used to purchase expensive ear-buds but I found the trade-off between high price and negligible improvement in sound not worth it. The lack of durability was just too much to tolerate.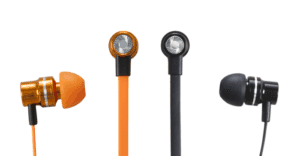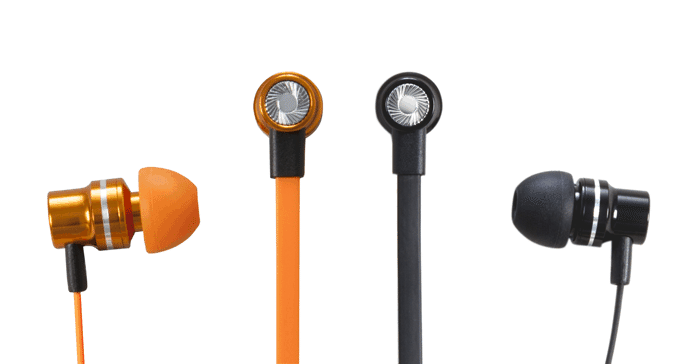 Eventually I waived the white flag of defeat and now I just purchase the white Apple earbuds by the case.  Dependable and cheap.
Now we have a crowdfunding campaign that claims to be the "worlds greatest sounding in ear headphones".  That is a pretty heady statement.  Pump & OMG – two different version of earbuds (at two different price points) – are already in production and will soon be ready to ship. Now these earbuds aren't the cheapest set on the market today but they are challenging market leader Beats and the creator, Adam Blair, has done a street side comparison demoing the product and response (at least what was shared) was quite impressive.  This is another campaign that has a money back guarantee (within 6 months).  Crowdfunding on Kickstarter now and easily topping the £5000 goal.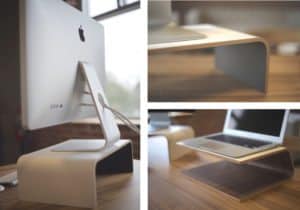 Next we have Desk Candy: cool computer stands that can be customized by color or graphics.  I have a pretty sweet set-up myself with 3 different screens but they are all too low to the desk.  Why should I look down instead of straight ahead?  Can I get a three pack with a discount? Desk Candy is a stylish and elegantly designed stand that will make any design geek proud.  Simple and functional, the wood stands are perfect for your MacBook Air or iMac.  I am debating between white and wood grained myself. There are still early bird specials available for $50.  Customize it with your logo for $120.  This one just started crowdfunding on Kickstarter and hopes to raise $75,000.
---
DeskCandy is a line of customizable computer stands that reflect your personality. Pick colors, wood finishes, or custom graphics.
If you have shopped for computer stands you probably felt like they lacked something. Maybe they lacked color options, design quality, construction quality, or customization. Most modern stands come in either wood or metal. We believe that people should have more then two options when it comes to their work environment.
We believe that we have created the World's greatest sounding in-ear headphones.
A bold claim, I agree, but let me try to convince you that it's not the fantasy of a madman…
For the last year I've become somewhat obsessed with creating the perfect in-ear headphones.
When I say "perfect" I mean in terms of sound quality rather than in terms of adding some kind of revolutionary technology, a gimmicky dual-purpose application, or anything like that.
I just wanted the perfect sound and I used Beats as the benchmark.
I know that some people don't really like the Beats sound that much due to the "muddy" bass (search YouTube if you don't believe me!), but most LOVE it, (including me!), so we aimed at the seemingly impossible task of producing an earphone that appeals to BOTH of these sets of connoisseurs:
People that love the bass heavy Beats, and people that prefer a more "true frequency response"…
…Essentially, MUSIC LOVERS!
Crystal Wash™ 1000 loads of clean laundry without using Detergents, Chemicals or Perfume… Now launching into the 21st Century.
Crystal Wash is already something we are very proud of. It is an amazingly efficient way to do laundry. It is clinically demonstrated to be as effective as detergent and lasts up to 1000 washes! Our goal now is Crystal Wash 2.0, the "connected" version, which will make it even easier to use than it is already and give you a set of tools & features that will help you do your laundry better.
Have a crowdfunding offering you'd like to share? Submit an offering for consideration using our Submit a Tip form and we may share it on our site!