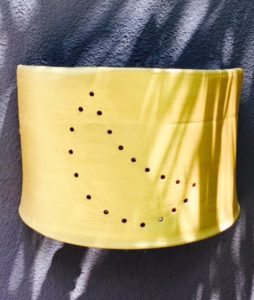 I have been considering purchasing a 3D printer for quite some time now. Crowdfunding has been an important catalyst in raising consumer awareness for this new type of hardware as there have been more than a few highly successful crowdfunding campaigns for personal 3D printers. But now that I have seen BoXZY, a personal "FabLab" that does oh so much more – I want this one.  Think laser engraving, CNC milling and 3D printing.  Basically BoXZY is a mini-factory for your home.  Aluminum, hardwood, plastic and much more.  If you are the creative maker type – you will want this machine.  BoXZY allows the user to quickly swap out the attachments that allows you to go from 3D printing to laser engraving in minutes. Now incorporating three different tools into one does come with a price – and early bird backers quickly scooped up the budget option – but think about the cost if you purchased each one separately.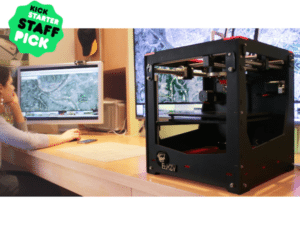 Crowdfunding on Kickstarter now, this campaign crushed its $50,000 goal and is over half a million today.  BoXZY has proudly shared this is the most funded campaign ever from Pittsburgh.
Wearable tech is going to take a major leap forward later this month with the release of the Apple Watch. This is but another early step in the internet of things (IoT) ecosystem as creative types will quickly offer a growing number of products that connects the user to the internet and devices providing powerful functionality – making life easier and technology more accessible.  Combining two necessary daily tools, HISmart is a practical convertible bag and smart device combined.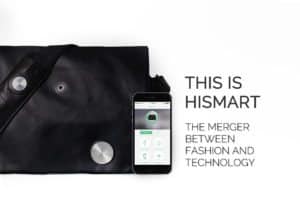 HISmart connects to your smartphone and gives you quick and easy access to a number of cool features. Quickly answer calls, record locations, take photos, and more – the bag is described as a "merger between fashion and technology.  And the bag looks hot.
Technology is best when it is ubiquitous, non-obtrusive and simple to use.  HISMart allows you to control various tasks when you are on the move.  Crowdfunding now on Indiegogo, HISMart has easily beat its crowdfunding goal.  Estimated shipping date is this coming July.
For anyone who has ever camped in the winter (or just somewhere cold) you realize that a tent is a shelter from rain, snow and wind but little more. Most current tents provide little insulation, so be certain to bring a sleeping bag that can keep you warm. Thermo-Tent, crowdfunding on Kickstarter, is addressing this challenge and they have designed and created a tent that is "correctly insulated" from both the excessive cold and heat. Creators have come up with a design that limits bulkiness and condensation, delivering a high quality product that promises a comfortable camping experience.  This product also has some practical applications beyond the world of outdoor adventure. Thermo Tent is perfect for disaster relief situations where shelter must be created efficiently and quickly when populations are displaced – something that happens all to frequently today. This crowdfunding campaign from  Tralee Rural, Ireland, is halfway to its £40,000 goal.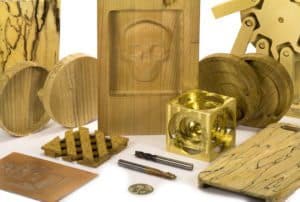 Rapidly transforms into 3 kinds of machines: CNC Mill, 3D Printer & Laser Engraver while enhancing precision & power with ballscrews
Introducing BoXZY, the most versatile desktop fabrication device on the market. We built BoXZY so you can do more, better. This triple-threat tool combines a 3D Printer, CNC Mill, and Laser Engraver ­in one compact cube. By utilizing the quick-change heads, any maker can shape a block of aluminum, hardwood, or plastic into intricate designs; 3D print complex plastic shapes; or laser engrave into objects made of wood, leather or plastic.
BoXZY's is an extremely robust maker space that rapidly becomes what you need when you need it. Simply slide one attachment out and slide another in without any compromise in precision. To power all these tools and create BoXZY's 4 micron resolution, BoXZY drives all 3 axes with industrial ballscrews, which are firmly nested in BoXZY's sleek, black anodized aluminum body.
HiSmart is the first-of-its-kind that merges fashion and technology, a bag that not only changes according to your capacity needs and occasion, but also vastly simplifying the way you connect to people, places and things. It's not just stylish and cool, but it makes our busy, urban lives more efficient and enjoyable.
After thousands of design drafts and dozens of different prototypes, we finally made HiSmart that is beautifully and minimally designed. It can transform into two different styles and is made with canvas and handmade Italian leather.
Tents used to really annoy us. Too hot, too cold, too noisy. Not any more. We have designed the world's first correctly insulated tent.
Although I loved to camp, something used to really annoy me about my various tents. Once the temperature dropped outside they immediately became like ice boxes inside. The opposite was also true. Once the sun hit them directly they were like saunas inside. And whenever I camped in a large campsites, I might as well have invited everyone in, as there was no acoustic barrier between us and the outside world.
We at Thermo Tents have essentially married brand new and innovative insulation technology with our new multi layer tent design, and Thermo Tent is the result. It is the world's first (correctly) thermally and acoustically insulated tent. We have managed to overcome issues like bulk and condensation risk, and we have come up with a top quality, mobile tent that will introduce you to a new level of Comfort, Outdoors…
Have a crowdfunding offering you'd like to share? Submit an offering for consideration using our Submit a Tip form and we may share it on our site!