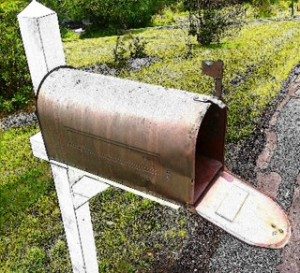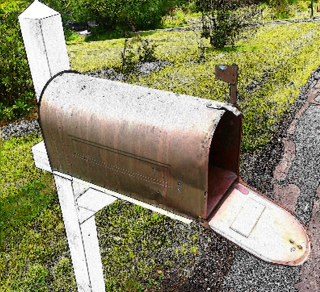 With the implementation of Title IV of the JOBS Act, otherwise called Regulation A+, we have entered a new step in the leveling the playing field for investors gaining access to early stage companies and companies ability to raise capital in a "mini-IPO" type structure. Previously only accredited crowdfunding was actionable but as of June 19th anyone may participate in these types of private placements. We hope to see a growing number of successful rewards based campaigns, move into raising capital using Title II, Title IV and someday soon Title III of the JOBS Act.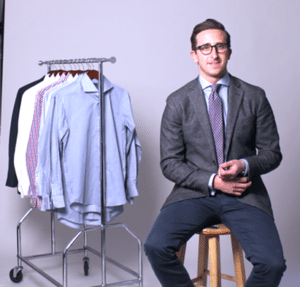 There have been many shirt campaigns on crowdfunding platforms.  I get it. Most off the rack shirts just don't fit.  Price may be good but the fit sucks.  Sure you can fly over to Hong Kong, Saville Row or drive to your local tailor and get as a many bespoke shirts as your heart desires but this costs.  Lots.
Woodies, "Perfect Fitting Shirts" may be a perfect compromise. Pick your collar.  Pick the cuff style. Pick the material. All high quality and "micro-manufactured" to your specs.  Woodies is incorporating a 3D measuring tool to get the shirt to fit. On top of that, the price is great.  This isn't Woodies' first go at crowdfunding either.  In May of 2014 he raised over $40K on a $10 goal for his bespoke shirts. And they delivered too.  This time he is doing it better.
Fully funded now but better hurry.  This campaign closes soon.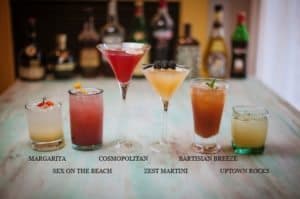 So I am a coffee nut.  Yes I have a Nespresso for when I need an intense jolt of caffeine.  So when I saw Bartesian, I thought – this is kind of cool…
Bartesian is like Keurig or Nespresso except instead of caffeine you are delivering booze. All in the form of your favorite cocktail. What's not to like about that?  Fill up the alcohol resevoirs, select the mixer capsule and a button or two later you are sipping a Cosmopolitan. No mess. No fuss. Now I am pretty good with a shaker but sometimes I  crave a cocktail (or two) but just don't want to start slicing limes and clipping mint.  Creator Bryan Fedorak may be on to something here.  My biggest beef is the initial round is Bourbon drinks free.  No Old Fashioned? No Manhattan?  This is something that needs to be addressed.
Crowdfunding on Kickstarter now.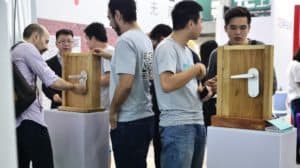 I find it interesting that one of the early, hot crowdfunding categories, were smart locks.  Anyone remember Lockitron?
Well Ola, the "new lock on the block" has one upped the old crowd.  Not only is Ola smart (and stylish) it incorporates fingerprint technology to allow the user to unlock the door with just a touch. No card to wave. No key to turn.  No need to pull out your phone and use an app. Just twist the handle the door opens – just like it should. The technology is similar to the iPhone tech.  Now Ola also integrates with an App so you may use that too.  You can manage users so temporary access may be given or you may schedule certain times, when certain users, may enter your house.
The next step is voice recognition but until that time we have Ola. Crowdfunding on Kickstarter.
---
A revolutionary approach to the way you buy shirts. We make custom shirts using advanced 3D measurements.
Woodies started because small, medium and large don't make sense like they used to. Getting the perfect shirt, made especially for you has never been easier and more accessible than now.
We're excited to be here on Kickstarter, where it all started. Your immense support and feedback has shaped Woodies into what we are today.
Bartesian mixes you the perfect cocktail in seconds; insert your capsule and select your strength. It's cocktails, liberated!
What is Bartesian?
Bartesian is cocktails, liberated. Create delicious cocktails at home without fancy recipes or multiple ingredients. Everything you need is inside the capsule – just add the basic spirits (vodka, rum, gin, and tequila).
Insert your capsule, select the strength, and Bartesian will mix the perfect cocktail every time. One cocktail, one capsule, as simple as that!
Ola: The world's first keyless and phoneless Bluetooth enabled fingerprint smart lock. The fastest operation. The longest battery life.
"Have you ever thought of a lock that could recognize you in less than a second, unlocking your door the moment you touch the handle?"
Other smart locks take longer than regular locks, even more than 30 seconds to take out your phone, connect to Bluetooth, and unlock your door. But is that really 'progress'?
Technology should make life easier, not more complicated. That's why Ola has a fingerprint sensor integrated into the door handle. Register your fingerprint directly on the handle, and then forget about your keys and phone.
Ola is completely self-contained. All it needs is you.
Have a crowdfunding offering you'd like to share? Submit an offering for consideration using our Submit a Tip form and we may share it on our site!