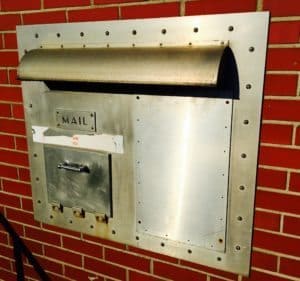 For this week's Crowdfunding Mailbox we have Imperial Sphericator, a device that transforms your food into "caviar"; Freaks3D, the worlds "first" portable 3D printer; and Minim, a pocket sized wireless instrument for music creation.
3D printing is pretty common today. It was not that long ago that 3D printers were an expensive novelty only accessible to the few, but with the many successful crowdfunding campaigns this has all changed. Today the price of 3D printers is dropping like a rock and becoming more accessible to the mass market.  Freaks3D has approached the market by developing a truly portable 3D printer with a very compelling price.  The printer hits the scale at just 3 kilos. Just pick it up and go.  If you want to bring an external battery you can work wherever you want.  Print either from an SD card or USB.  The featured price on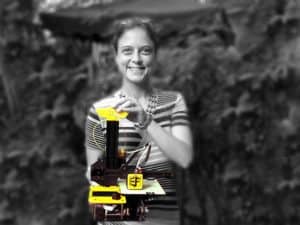 Indiegogo is only $299 (plus shipping) AND this one is supposedly ready to go and is expected to ship this month. That's right. No waiting a year, or more, to get your perk.  Over $70,000 was raised in just 3 days. Created by ElecFreaks based in Shenzen, China.
What exactly is an "Imperial Spherificator"? Good question.  Lucky I was curious enough to check this one out. Basically a "sphericator" takes liquified food and turns it into mini-pearls that resemble caviar. Why would you want to do that? If you are a creative foodie type this should be right up your alley as it allows the home-chef to add unique design, and flavor, to just about any food preparation.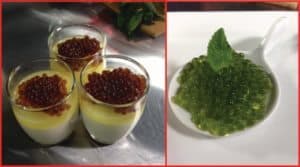 The concept is from a small company, Imperial Caviar & Seafood, based in Montreal, Quebec, which manufactures a seaweed based caviar substitute called "kelp caviar". The company uses a process called spherification (of course) that uses a calcium solution to create these mini spheres.   Reportedly the company has received requests for years from chef's and foodies to create a handheld device to match their industrial process – and here it is on Kickstarter.  While this is not something you would use everyday, I can definitely see home-chef's having a lot of fun with this. In fact I may get one for myself.  All the Early Bird offers are long gone.  You will have to pitch in $175 for this one. Ships in November 2015.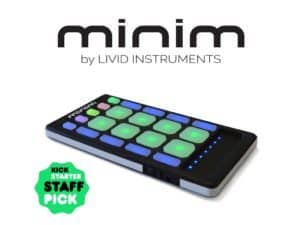 If you love making music you have to check out this crowdfunding campaign on Kickstarter. Minim, from Austin, Texas, based Livid, is a standalone music making device that looks like an enormous amount of fun.  The pitch video is the best description, but perhaps the best way to describe Minim is as a handheld synthesizer that can hook up with your iPad, iPhone, Mac etc. to go crazy and create music. You can play sounds like drums, guitars, electronica – all on one device. Or get together with friends and just jam. Livid has been creating musical coolness since 2004 but this may be their best product yet. The same size as an iPhone 6+, Minim can create thousands of sounds for creative mobile music making. Only $99 on Kickstarter. For couples $149 will get you two. Ships in February 2016.
---
Expressively control your favorite music creation apps & software. Make music anywhere with any sound, all on one instrument.
Minim is the world's first wireless, pocket-sized instrument designed for mobile music making.
Use Minim with your favorite music creation apps with tactile control that goes beyond the touchscreen.
Minim's expressive pads, 3D motion control, and touch sensitive technology allow you to play intuitively.
Play any sounds like drums, guitar, synths, or samples all on one device.
Minim's long-lasting battery empowers you to sketch out songs on the go.
Designed with over a decade of experience manufacturing innovative instruments in Austin, TX.
The world's only automatic caviar & pearl making device for the chef and foodie in you. You are limited only by your imagination!
The origins of the Spherificator
The Imperial Spherificator is a project years in the making!
We run a small company in Montreal, Quebec, Canada which manufactures a seaweed based caviar substitute called Kelp Caviar. The manufacturing basis of this product line is the same as the one used by chefs all over the world in the process of Spherification, where Alginate, a seaweed extract, is mixed with Calcium to form a caviar, or pearl-like shape.
For years, chefs, foodies, bakers, bartenders and home cooks have been asking us to find a way to down size our caviar substitute-making machine for household and professional use. After months of R&D, we are ready to introduce to the world the only pearl and caviar handheld forming device: the IMPERIAL SPHERIFICATOR.
Simplified structure. Portable so you can take it anywhere. Quality prints at breaking low price.
Take it wherever you want. The Freaks3D weighs 2.945kg and battery compatible. It is completely portable. Small enough to blend in with any table but large enough to unleash your creativity.
Less is more. Simplified extruded-aluminum beams to ensure sturdy and high-quality performance. The Freaks3D employs v-slot slider system to provide precise seamless positioning.
Quality prints on your desktop. Detailed layer resolution at fast speed. All-metal nozzle head allows PLA/TPU filaments of a rainbow of colors without easy breaks or damage.  No pre-heating is needed. Simply feed the filament into the entrance path and the printer will do the rest.
Have a crowdfunding offering you'd like to share? Submit an offering for consideration using our Submit a Tip form and we may share it on our site!