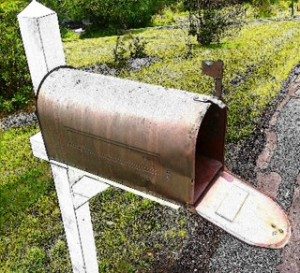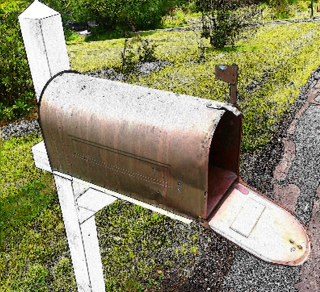 I happen to have an Apple Watch and I am slowly figuring out which features suit my daily routine the best.  I gave up wearing a traditional watch years ago as my iPhone quickly became my time keeper of choice (just like everyone else). But now that I am wearing a wrist-watch once again, I have become sensitive about the look.  Granted this is a first iteration watch from Apple but I think the default gray band that I am wearing is a bit blasé. Apparently Sanho corporation, and its HyperShop brand, came to the same conclusion and decided to do something about it. Sure you can purchase the Apple steel link band for a "mere" $449, or perhaps a stylish Milanese loop for $149, but Sanho has created the "HyperLink" stainless steel Apple Watch link bracelet for only $49.
According to the campaign page on Kickstarter, the band is made from solid links of 316L stainless steel.  Available in both 38mm and 42mm sizes, HyperLink comes in both silver and "space black" – perfect if you have the space gray watch.  It appears that Sanho is on to something as over 3500 backers have supported this crowdfunding project and it has already raised over $220,000.
We have already seen "sprayable energy", a topical caffeine mist, so why not energy boosting gum? NeuroGum is a "focus-boosting energy gum" that combines 40 grams of caffeine with Vitamin B6, Vitamin B12 and L-Theanine. Pitched as a step above the caffeine jolt, the NeuroGum crowdfunding campaign on Indiegogo states after two years of R&D, this team has created the perfect brain boosting chew.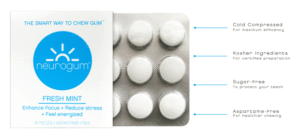 Minus any sugar or aspartame (they use sorbitol for sweetness), the addition of L-Theanine, the amino acid found in green tea, is nice addition. NeuroGum compares itself to coffee and energy drinks. Coffee, while tasty, stains your teeth and may upset your stomach.  Most energy drinks taste like a toxic sugary poison.  So why not just chew some gum? Over 240 people have just pushed this one above its $10,000 flexible funding goal.
Eventually everything will be connected to the internet and this next crowdfundign campaign takes your bike in that direction.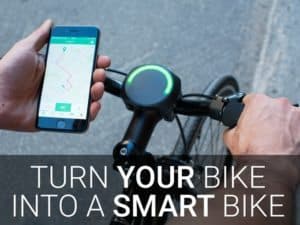 SmartHalo, a project out of Montreal, is an LED bike light that pairs with your phone (automatically) to provide multiple features.  Targeting the urban biking market, SmartHalo integrates turn by turn indicators by leveraging the associated smartphone App.  For fitness tracking, there is no need to turn the device on as it automatically kicks in once your smartphone is within range and your start moving. SmartHalo incorporates  a bike theft system. Once activated, if someone tries to move your bike – an alarm is triggered with a combo light and sound alert.  SmartHalo is supposed to be made of tough stuff – so it can withstand tons of abuse and inclement weather.  Crowdfunding on Kickstarter, SmartHalo has raised over $270,000 from more than 2200 supporters – easily topping its $50K objective.
---
Only $49. Get the stainless steel link bracelet band that your Apple Watch truly deserve. Made from the same 316L stainless steel alloy.
Unfortunately Apple's Stainless Steel Link Bracelet Band costs $449 which can buy you another Apple Watch Sport. It is reported that the $49 Apple Watch Sports Band cost only $2 to make so it's fair to say that the $449 Stainless Steel Band would cost very much less to make. With no huge markups or expensive corporate overheads, we hope to bring you a similar quality stainless steel link bracelet band, crafted from the same 316L stainless steel alloy as the Apple Watch for only $49 (Kickstarter early birds).
SmartHalo is a smart biking system that lets you focus on what matters the most – the road.
SmartHalo is a smart biking device designed for urban cyclists. Its military-grade locking system ensures it stays permanently on your handlebar to assist you when you need it. The intuitive navigation system shows you the quickest, safest routes to your destination. Automatic tracking capabilities save your biking metrics seamlessly. The powerful front light illuminates your path at night. And when you're not around, SmartHalo keeps your bike safe from thieves. This is the smart biking system you've been waiting for.
The first sugar-free, brain boosting gum that provides focus and a fresh breath of energy!
There's a reason why Neurogum is the smart way to chew gum.
Our patented nootropic (cognition enhancing) caffeine + L-theanine blend with brain-boosting B vitamins are scientifically proven to enhance focus and cognition, all while giving you a fresh breath of energy. On top of that, we never use sugar or aspartame.
So whether you're studying for a test or preparing for a date, there's always something good to chew on.
Have a crowdfunding offering you'd like to share? Submit an offering for consideration using our Submit a Tip form and we may share it on our site!