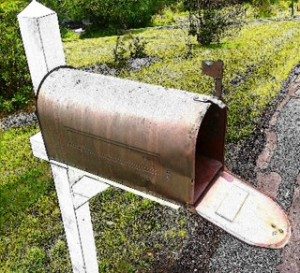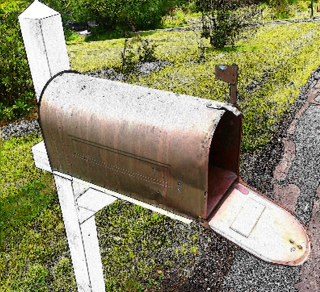 Orbbec has created a 3D camera that is the "world's first camera computer".  So what exactly does that mean? Today imagery and video are pretty much flat as we exist in a 2D digital world, but 3D is just around the corner.  Think of Orbbec Persee as a set of digital eyes that can capture and interact with the world that surrounds it.  What makes Orbbec Persee unique is the fact that it is just not a camera but a standalone product with a Quad core cortex A17 CPU.  The Orbbec claims a best in class 3D, 720P camera with a range of 0.4 m to 8 meters.  I know this is pretty geeked up stuff but while we all expect to have computers, iPads, and iPhones with 2D cameras – some day this will change where everything will be able to capture and generate 3D images.  Orbbec is a significant step in this direction.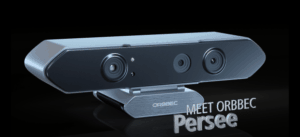 What can you do with the Orbbec Astra Pro now? 3D scanning for printing, 3D software development (hello Oculus) and robotics. To quote Greg Borenstein from the MIT Media Lab;
"This Orbbec device could lead to a new golden age of open source 3D hacking. It puts 3D scanning and body tracking within the reach of designers, students, artists, and creative coders of all types. I can't wait to use it in my own projects and to see what the community does with it."
Crowdfunding now on Indiegogo, the Orbbec Persee ships in February 2016.
Here is another digital camera project that is crowdfunding on Kickstarter.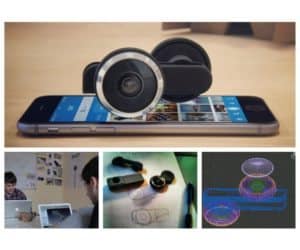 SHOT is an add-on lens for your iPhone that allows you to create, view and share images like never before. The Shot lens is in fact two lenses in one that broadens the field of view of your iPhone's camera.  The creators have developed an App that works with Shot to manage your images.  To capture a 360 degrees photo, the app takes one photo with each camera and merges them into a high-resolution panorama. Just open the Shot App, add the lenses and VR images are saved on your phone. Shot also works with Google's Cardboard This is one the campaigns where you must watch the video to understand everything Shot can do.  Shot is scheduled to ship in April 2016.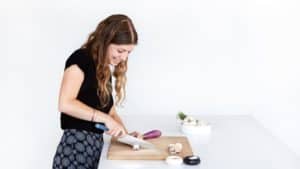 Misen is a pretty simple crowdfunding campaign.  A super high-quality chef's knife that saves you a lot of money by elimating the middle man.  Over 7000 backers have already supported this project on Kickstarter proving the demand for this product.  Misen claims a "Rockwell Hardness" rating of 58-59 that is 60% better than "other premium" knifes.
Sure you can head over to Sur La Table or any other Kitchen & Cook shop and spend bundles on an uber-knife.  But why do that when you can pay a mere $65 for Misen's Chef Knife and possess the one knife to rule them all.
---
Creating intelligent 3D technologies for every human, everywhere

Orbbec has been working for the past three years to develop the best 3D cameras on the market as well as to create an entirely new category of 3D technology: a camera with a built-in, fully functioning computer. Now we're ready to share our new device with you.

Orbbec Persee is the world's first 3D camera-computer. It is a versatile, low-cost device that can fit in the palm of your hand. It can plug into your TV or run without a display, and you can interact with it entirely through the built-in 3D camera.

We want artists, hackers, creative coders, and pioneering developers to use Persee, give us feedback, and make 3D experiences that take intelligent computing to the next level.

We're ready to start mass producing our devices and we're looking for Indiegogo supporters to back our campaign to raise the funds we need to bring Persee to the world.

A lens attachment and an app to create virtual reality videos and photos with your iPhone

We are really excited to launch our first project on Kickstarter. It is the first solution to create, share and watch virtual reality with your iPhone. Everybody knows that the iPhone 6 (and the new iPhone 6S) has an incredible camera and processing power. With Shot we are trying to add the last ingredient to make possible capturing immersive videos and photos, the ability to "see more".

In summary, Shot is a lens attachment composed of two lenses that increase the field of view of your phone's camera, and an app that allows you to easily record and share immersive content.

It is as easy as opening the app, slide the lens attachment and start recording and sharing immersive videos and photos in one shot. The interface is similar to other apps like Instagram or Vine. Combined with a virtual reality headset, the Shot app allows you to look around and experience your photos and videos in a totally different way.

Redefining kitchenware essentials, starting with one extraordinary knife. Premium materials, thoughtful design and honest pricing.

Quality kitchen tools are vital for a better cooking experience. They allow you to be more creative & versatile in the kitchen, help produce better quality food, and if well-made should last a lifetime.

A good Chef's Knife is the single most important tool in any kitchen. From mincing garlic to breaking down meats, it's the workhorse behind virtually every great dish. There's an almost indescribable joy to effortlessly slicing through foods with a razor-sharp blade.

But between confusing, unexplained features and needlessly expensive price tags, finding the perfect blade can be difficult. That didn't seem right to us, so we spent the last 18 months making something better.

An amazing knife at an honest price.

Have a crowdfunding offering you'd like to share? Submit an offering for consideration using our Submit a Tip form and we may share it on our site!

Sponsored Links by DQ Promote