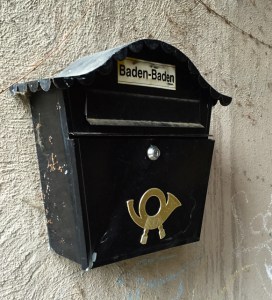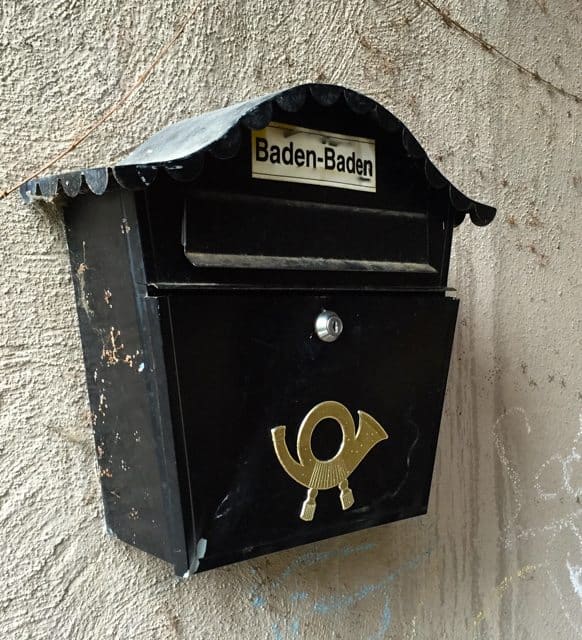 The technology available to create electric bikes that are compact in design and provide sufficient power for a good ride has become ubiquitous.  Folding bikes have been around for a really long time.  Gi FlyBike is perhaps the first product to combine the two and create an elegant looking, electric bike and they are crowdfunding now on Kickstarter.
This project is a redo as the Argentinian team fell far short of their $400,000 goal last year.  This time, they are doing it right having cruised past its lower goal of $75,000 and easily topping $300,000.  According to their campaign page, the experience in 2014 has led to a better product: Better tech and more affordable. If you are looking for a cool new commuter bike that you can store in a closet, you have to check this one out.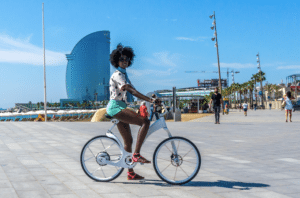 As for specs, the GI FlyBike claims a 40-mile battery range, front and back lights, anti-puncture tires and more.  If you are interested Gi FlyBike will cost $1990 with an expected delivery of June 2016.
Heads-up displays should be standard on all cars. Unfortunately they are not. The technology has been around for a very long time but most-manufacturers have been slow to incorporate the feature that is not only convenient but makes driving safer.  There have been several other crowdfunding campaigns that have developed cool new display technology for cars but HUDWAY Glass has taken a unique, yet simple approach.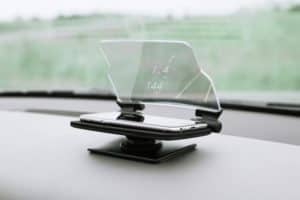 Crowdfunding on Kickstarter now, HUDWAY Glass is an add on product that leverages the souped up tech will all port around in our smartphones.  Using a special class display, HUDWAY has transformed you iPhone into a screen where you can display GPS directions, speedometer and more.   No need to pay hundreds of dollars on an expensive aftermarket device, HUDWAY will set you back just $49.
Keyless entry into your house or apartment will soon be the norm and not the exception. We are not quite there yet though, as most of us are still using a key and bolt.  Or if you live in an apartment building, you have a buzzer and intercom set-up to buzz people in.  This next crowdfunding out of Munich tackles the latter category by turning your "intercom smart".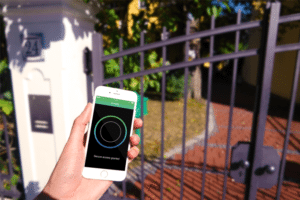 Monkey is an aftermarket chip you can add to your existing system that integrates with an available App. You may allow the tech to automatically buzz you in as you approach or program to allow friends and family easy access to your flat. It also integrates with several available smartlcoks including Goji and Lockitron.
Monkey is said to be compatible with all intercoms. It connects to your wifi network and is said to install in three easy steps. If you back this one now on Kickstarter you can expect to have delivery this January for just $67.
---
We built Gi FlyBike in the pursuit of one big idea: to transform the way millions of people commute around the world.

Gi FlyBike is an electric, smart, maintenance-free, folding bicycle with full size, 26" wheels that we created for the future of urban commuting.

Crafted from ultra lightweight aircraft grade aluminum, Gi FlyBike can be taken anywhere––bus, train, office, elevator, or locker––without compromise. Gi FlyBike gives people exactly what they need. Freedom to ride without excess or restraint.

A universal vehicle accessory turning your smartphone into a head-up display (HUD) for any car

Hi, we're HUDWAY. We made a universal vehicle accessory that turns your smartphone into a Head-Up Display (HUD) bringing comfort and safety to drivers all over the world. We did it because we're tired of waiting for others. Because we believe that automotive HUDs are safer than an instrument-panel display or a smartphone. And because other solutions are either very expensive, or stuck in the midst of a long and complicated development process. This is the accessory we want, and we think you'll like it. It's simple and affordable. Discover a new way of using your phone while driving and not being distracted. Now we need your support to make HUDWAY Glass a reality. We hope you will join us!

Get hands free access to your building, enjoy unattended deliveries or go completely keyless in combination with any smart lock.
You live in an apartment building or a house with a gate. Then monkey is the perfect solution for you: monkey is the world´s first upgrade smart control for your intercom that allows you to enjoy all the benefits of a smart lock without having to change a single thing at your door.

With monkey you can:

1) Enter your home keylessly & hands-free. Great when carrying a lot of things: monkey detects your smartphone as you approach your main entrance door or gate and automatically opens it for you. You can also combine monkey with any smart lock on your apartment door to go completely keyless.

2) Remote control your intercom. Open your main entrance door through the monkey app, from your couch or anywhere in the world.

3) Enjoy unattended deliveries or let in guests conveniently. Simply set a time window and your main entrance door will open automatically when a person rings at the right time.

4) Go completely keyless. You can seamlessly combine monkey with any smart lock on your apartment door for a maximum keyless experience for you, your family & friends, service personnel, Airbnb guests and others.

Have a crowdfunding offering you'd like to share? Submit an offering for consideration using our Submit a Tip form and we may share it on our site!

Sponsored Links by DQ Promote