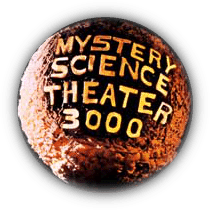 With nearly 24 hours until its Kickstarter ends, Mystery Science Theater 3000 is on the track to raising over $4.5 million.
Creator of the famous cult classic TV series, Joel Hodgson, teamed up with Shout! Factory to launch the campaign to bring back the hit series, which ended in 1999. The original $2 million funding goal would fund three full-length episodes, and $5.5 million would fund a season of 12 episodes.
During a recent update, Hodgson announced some of the biggest stars in Hollywood have offered to cameo for the rebooted series:
"Today – to kick off the last 36 hours of our Kickstarter – I wanna share the names of a few more super-talented folks I've been talking to, who are interested in helping us out in front of the camera! Now, listen: there's no way we can 100% guarantee this stuff, because these nice folks are all really busy… but they're also really big fans of MST3K, and they've each said that if we can fit into their schedules, they'd love to do a cameo in one of our new episodes!"
Check out the list of possible cameos below.
Jack Black: "The brilliant comic actor and musician, star of everything from the Kung Fu Panda films to the wonderful School of Rock… though to some people, of course, he's better known as one-half of Tenacious D. So, I don't wanna tell you anything about what I'm planning for his character… but I think it would be a lot of fun to have him perform a song."
Joel McHale: "Who I first knew as the hilariously dry host of The Soup, and who has been expanding his acting career into television (as the star of Community) and film (the Ted movies). I met Joel at a friend's wedding last year, and we became fast friends. He's a really nice guy, so even though he's in demand for big-time revivals like The X-Files, he says he's up for joining us too!"
Bill Hader: "The incredible changeling/actor/impressionist who has appeared in everything from SNL to Cloudy with a Chance of Meatballs to Trainwreck. I've always been amazed by Bill's talents, and was finally introduced to him backstage at SNL by a mutual friend."
Neil Patrick Harris: "Is a true renaissance man whose career spans film, TV, the broadway stage and the internet, where he appeared opposite our own Felicia Day in Dr. Horrible's Sing-Along Blog. Funny enough, though, I actually met Neil through mutual friends at the Los Angeles Magic History Conference, where we geeked out on magic together. Also, I'm honored to point out that Neil has always been a MSTie. In fact, he was included in first MST documentary – This is MST3K – all the way back in his Doogie Howser days!"
Jerry Seinfeld: "My long time friend, and of course, one of our most brilliant stand-up comedians. Jerry was also the co-creator of Seinfeld, and the creator and host of my favorite concept for a talk show, Comedians in Cars Getting Coffee. You know, I've known this guy for over thirty years. I actually remember him from when he only had one car."
Hodgson then added a mystery cameo…. MARK HAMILL!!!
"And you know, when we finally spoke, and Mark told he me was a MSTie from way back, I was simply knocked out. Like a lot of other people in my generation, seeing Star Wars in theaters back in 1977 was a profound experience. For me, it was the equivalent of seeing the Stones play. But since then, I've also admired Mark's incredible work as a voice actor, especially as the Joker in the Batman animated series and video games. Mark just gives these unbelievable performances in all of his roles, so I'm excited to find a really fun, unexpected role for him on MST."
If you weren't excited about this reboot before, you should be now! The campaign is set to close on Saturday!

Have a crowdfunding offering you'd like to share? Submit an offering for consideration using our Submit a Tip form and we may share it on our site!

Sponsored Links by DQ Promote