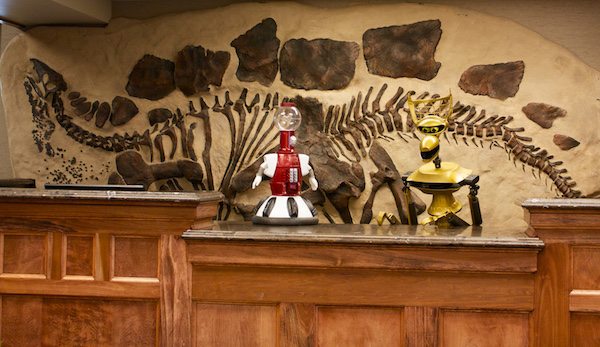 Following the success of Mystery Science Theater 3000'sepic crowdfunding campaign on Kickstarter, the Best Western's Dinosaur Hotel in Denver, Colorado announced that they gave a TON of money to the project and have signed on as executive producers of the  show's new season.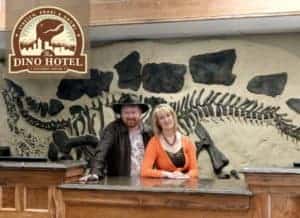 According to the dinosaur-themed hotel's owner, Greg Tally, the company spent the hotel's 2016 marketing budget to become the executive producers of the new season of Mystery Science Theater 3000. It was even revealed that the hotel gave a total of $40,000 towards the high profile project. 
Explaining why he decided to shell out the $40,000, Tally stated:
"As a business, we have a history of supporting crowdfunding projects big and small, particularly in the arts and sciences. We are enthusiastic long-term, hardcore MSTies. We joined the project early, became the first to sign on at the Executive Producer level, and continued our collaboration and contribution from there. We were the first to sign on using Kickstarter's new $25K donation threshold, as well. (Prior to this the limit was $10K). By the time the campaign ended, we had opened a second account and donated an additional $15K. We believe in Joel [Hodgson] and the bots. We had no idea how the project would snowball, when so many celebrities signed on to help!"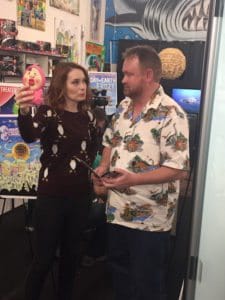 Noting what the company generally uses the promotional budget for, Greg shared:
"We used to spend our money in the sorts of places you'd expect a hotel to market — print ads, trade missions, etc. Now, we donate our money towards causes and demographics we engage in ourselves. Our clientele is very nerdy and dinosaur crazy — those are both high compliments, by the way."
Tally also explained that this wasn't the first crowdfunding project that the company contributed funds to:
"We've done this before with a $35K contribution to an Indiegogo campaign to save inventor Nikola Tesla's last laboratory. As a result, cartoonist The Oatmeal drew an original cartoon about our business. As a result, we have over 87K fans on Facebook alone. Now we are content providers of dinosaur humor as much as we are a hotel. As for MST3K, Joel and the dinosaurs will cook up something special; we promise."
In regards to any feedback he received for contributing to the project, Tally added:
"People are generally resigned to this level of craziness from me. The toughest sell was my mother. I said phrases like 'crowdfunding' and 'possibly distributed on a streaming content platform' and 'flex goals,' and she just glazed over. Everyone has come around now."
Creator of the show, Joel Hodgson, took to the crowdfunding giant last month with a mission to raise as much funds as he can for the first season since the series ended in 1999.  The original $2 million campaign goal would fund three full-length episodes, and $5.5 million would fund a season of 12 episodes. Not only will the show now have 12 episodes, it will also have potential star cameos that include Neil Patrick Harris, Jack Black, and even MARK HAMILL!
Have a crowdfunding offering you'd like to share? Submit an offering for consideration using our Submit a Tip form and we may share it on our site!