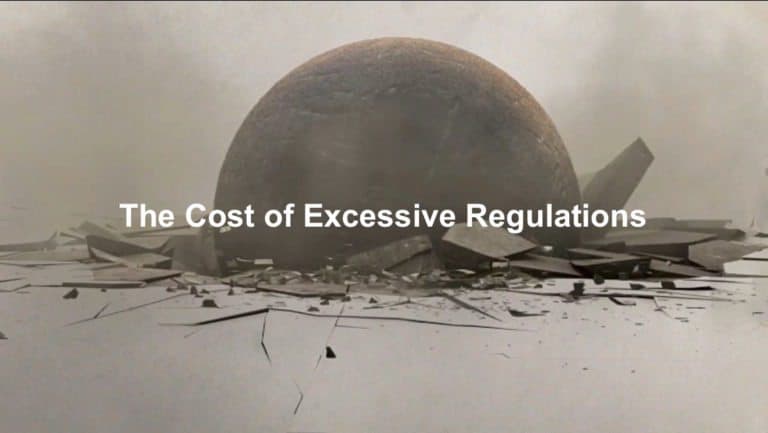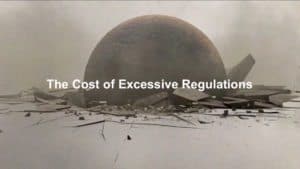 Yep. The Federal Reserve agrees. Small community banks have been crushed by excessive regulations. In the past, these localized financial institutions have been the foundation of economic growth for SMEs.  But misguided laws from  myopic politicians driven by the battle cry of "too big to fail" have fallen prey to their own hubris: They have created a new economic reality where community banks are "too small to succeed". What many rational people have known for quite some time, the Dallas Fed has taken some time to quantity.
Preston Ash, Christoffer Koch and Thomas Siems from the Fed state that smaller banks are finding it hard to survive. The unique model of proximity and community intrinsic to small banks is being demolished by laws such as the Dodd-Frank Wall Street Reform and Consumer Protection Act (and its 1858 pages of rules). In fact in 1992, community banks accounted for 64% of total banking assets ($4.6 trillion).  By 2015, the market share of small banks has dwindled to just 19% ($15.9 trillion). Even in light of debilitating regulations, small banks continue to provide 55% of SME loans alongside 75% of agricultural lending.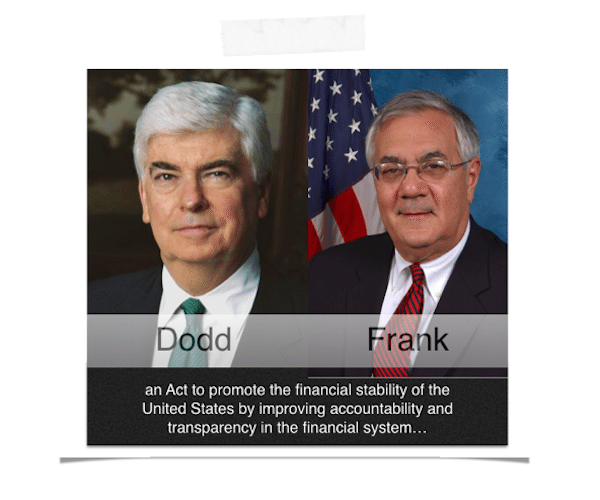 Now banks of all sizes must address compliance issues but larger banks are quite obviously more equipped to scale and tackle the cascade of rules.  From the Fed to the SEC to many elected officials the cacophony of voices echoing the sentiment that Dodd-Frank went too far is growing. The only voices that have not been added to the Mea Culpa list are those of Barney Frank and Chris Dodd. The fear is that Dodd-Frank has institutionalized systemic risk as opposed to mitigating it, but then we won't be able to confirm that until it is far too late.
The authors of the Fed report state;
"…in a regulatory environment that increasingly addresses big bank processes and tends to be "one size fits all," smaller community banks appear to have a valid concern that their compliance burden is rising and the playing field is becoming more uneven. Regulatory oversight should match the level of risk an institution poses to the financial system and economy at large. Otherwise, more banks may become too small to succeed."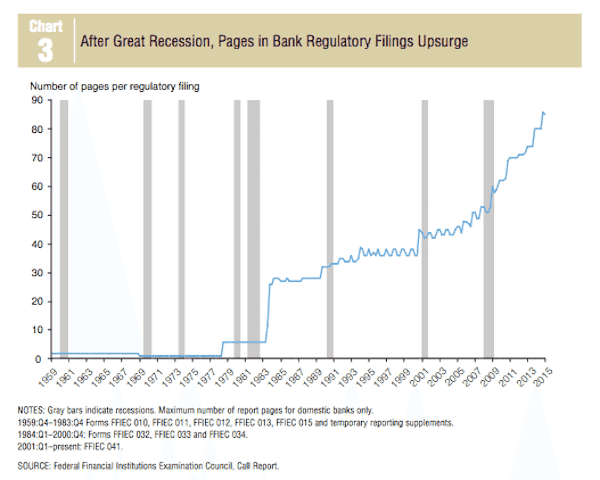 The only good thing that has come of morass of financial rules appears to be the rise of marketplace lending and the opportunity for SMEs to access capital as banks slip into the yonder of extreme risk avoidance.  Let's hope over-zealous regulators don't get too excited and repeat their mistake and kill off the future of lending.

Sponsored Links by DQ Promote