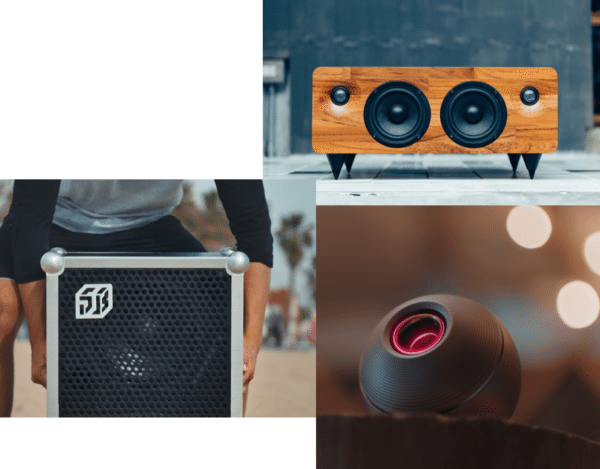 Audio speakers and crowdfunding have experienced a robust relationship in the past few years. From startups to well established manufacturers, there have been too many projects to count. The caliber and quality of speaker projects showing up on rewards based platforms have spanned the spectrum as well.  While it is inevitably a challenge to compare sound quality of speakers not yet completed, today we are covering three speaker projects that are ongoing – each a bit unique in its approach.
MIN7 is a retro, speaker system in a wood box. But do not let the rectangular structure fool you because inside the MIN7 has much of the technology you have come to expect. The 2.1 system can power 150 watts of music, movies or games with tweeters, woofers and a sub-woofer in the base.  You can pair using WiFi or Bluetooth or choose to use the wired options including Coaxial and Optical Input. Probably the best feature of the MIN7 is the design.  The speaker comes in a selection of natural wood including Oak, Teak and Chestnut.  Crowdfunding now on Kickstarter, the early-birds are long gone but you can still purchase a single speaker for $499. Ships this coming July.
Luna by crazybaby is pitching its product as a combo Hue LED lamp, Bluetooth, WiFi speaker that incorporates "MESHNET" technology. The Meshnet tech apparently can network up to 32 different units – paired together.  Luna is tech eye-candy with its brushed aluminum surface and telescoping "Luna eye". Where the MIN7 is old school wood, Luna is compact, modern art. Of course it syncs with your iPhone, Apple Watch etc. via an accompanying app.  Luna starts at just $129 (early bird) on Kickstarter. Ships this coming October.
Sounboks is the loud kid on the block when it comes to pure decibels. The creators have assumed the title of  "the loudest battery-powered speaker", Soundboks is the speaker you want when you are throwing that outdoor party for the masses. Soundboks focuses on three performance KPIs: Extreme Volume, Unbreakable Design and Maximum Battery. What does that mean? 119dB for live concert sound (don't forget the earplugs). And battery power- you have it. 30 hours in a single charge (at just 113 dB). Perfect for your next neighborhood rave. If you are looking for portable "brain blowing acoustics", you have found it here.  For $499 your portable rave machine is expected to ship this coming June. Crowdfunding on Kickstarter now.
Bringing audio engineering, craftsmanship, and technology together.
MIN7 is an elegant multi-function wooden speaker that is handcrafted and engineered to produce a pure audio and visual experience.The market today is flooded with mass-produced products made with excessive plastic and metal parts. We all miss the time when products embodied craftsmanship, personality, and beauty.Every MIN7 is made of joined solid wood panels of 15mm thickness. Its natural tone beautifully matches your home decor.MIN7 embeds 2 amplifier board chips to power 150W 2.1 stereo system. In order to engineer the best sound, our speaker drivers expert with over 26 years of experience specially designed a new 1" silk dome tweeter, 4" paper cone woofer, and 5.25" subwoofer to deliver the best transition from low to high frequencies.
World's First Telescopic Wireless Speaker. Powerful Connectivity. Intuitive Light and Audio System Reproduce All Details of Your Music.
Elevate your music lifestyle by creating a powerful speaker network customized to any space. The centerpiece of Luna's design, Luna Eye, will automatically emerge when the speaker is powered on. This AWU smart electric telescopic system benefits the resonate performance by giving more space for the body. Luna's connectivity is outstanding among its category. Powered by MESHNET network technology, the music network can support up to 32 units paired together. With Luna, your true connected music life will start from here.
The first and only portable speaker capable of throwing a real party. Shipping before Summer '16!
We wanted the SOUNDBOKS to work for any occasion, so we tested the design to withstand any extreme situation you can dream of. Our vision is for you to be able to create the experience of a concert or a festival anywhere, anytime. The SOUNDBOKS features a lightweight, but ultra durable design that helps ensure that the SOUNDBOKS always delivers – whether you're at a wild tailgate or an all-night party at the beach.Turn it UP, UP, UP – all the way to 11! The SOUNDBOKS combines high Sound Pressure Level (SPL) speaker units with our powerful SOUNDBOKS amplifier to blast sound levels of up to 119 decibels – louder than an average PA-system at a rock concert! Suffice to say, the SOUNDBOKS is street-party and rave ready.
Have a crowdfunding offering you'd like to share? Submit an offering for consideration using our Submit a Tip form and we may share it on our site!