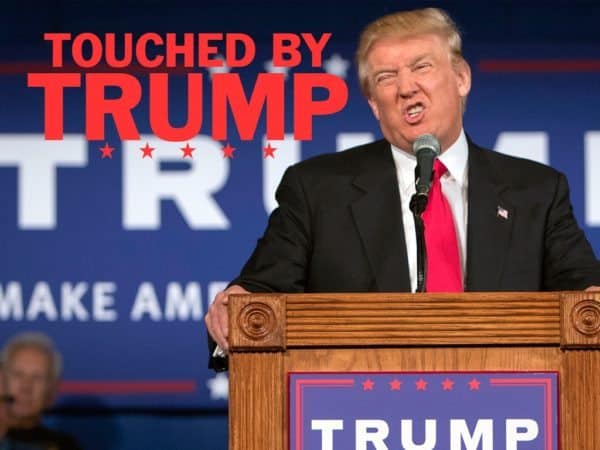 ---
The national embarrassment known as Donald Trump, and his infamous bid to lead the most powerful country on the planet, has garnered far too much earned media already.  Somehow journos are drawn to the train wreck of a Presidential candidate. Kind of like bugs to a zapper – so I apologize in advance for this coverage. Beyond threatening to sue the media when they point out his profound inconsistencies, bragging about his manhood and wanting to punish women, the reality TV star who believes he is fit to hold the same office as Abraham Lincoln has spawned many crowdfunding campaigns. I guess I should have seen this one coming.  So below are some of the many crowdfunding projects on Kickstarter launched to lampoon, and perhaps support, the individual who may be the ultimate demise of the Republican party. Expect many more to follow.
---
Humanity Hates Trump Cards – Making Party Games Great Again – We are building something huge. No, really HUUGE. Humanity Hates Trump – and We want to make American Party Games Great Again! $6250 pledged.
Political Suicide – The Card Game: Donald Trump Edition – A card game for people who are into suicidal politicians, laughing at Donald Trump, and an elevated heart rate! $3440 pledged.
Trump Playing Cards – An American, Politically Aware Deck – A fun deck of playing cards about the West and traditionalism. Nothing trumps history, friends or family. $3149 pledged
Touched By Trump – A Documentary About Donald Trump And The Lives He Has Touched $2,923 raised
lovepop 3D Pop-Up Greeting Cards: Donald Trump & Deez Nuts – A meticulously designed, high-quality greeting card with a 3D paper art pop-up Presidential nominee tucked inside. $544 raised.
Donald Trump Hentai Leader Shirt – I am trying to raise funds to create a T-shirt that can accurately describe what I truly feel will be the type of President Donald J Trump would be for America. "Hentai," in Japanese, means "Great Leader." $540 raised
Donald Trump Menstrual Pouch – Because Trump is clearly an expert on menstruation, I thought that it would be appropriate to put his face on a period supply pouch. $233 raised.
Donald Trump Kiss Leggings – Inspired by H.P. Lovecraft – I'm crazy enough to make these Donald Trump Kiss leggings no matter what happens. Putting up this Kickstarter is a way for me to raise funds to offset the startup cost of putting these babies into production. $214 raised.
Stump Trump with Magic from the Earth – Help me Stump Donald Trump and his hateful supporters with a binding ritual using the energies of Earth and Divine Female Magic. $66 pledged.
Donald Trump Make America Hate  – Again merch shirts, stickers and possibly other merch. $50 pledged
Trump Against Humanity – This unofficial expansion set of cards is the classiest thing you've ever seen in your life. It's so great. So great. – $45 pledged.
Trump (Out Of His Head) -We have this great Trump parody https://www.youtube.com/watch?v=zjBPMH80BQs We would like to print CDs for radio stations & fans. $5.00 raised
Trump Yourself – Have you ever wanted to be a billionaire? Well allow me to trump you. For $2, I will put trumps face, on yours. What could be better? $0.00 raised
Donald Trump: Unofficial & Unapproved Dissident Swag – Love or hate him, one thing we can all agree on is that The Donald is the GOP's very own jackass, ergo we redesigned his campaign logo. $15 pledged.
THE TRUMP STAMP – THE TRUMP STAMP is a temporary tattoo for your lower back. Wear it and support The Donald. Let's Make America Great Again! Funding Unsuccessful.
DONT TRUMP ON ME T-Shirt – It's time to make a statement. DONT TRUMP ON ME. Funding Unsuccessful.
Donald Trump's National Ad Campaign – Star in Donald Trump's "supporters only" national ad/video campaign. Airing online and on national TV. Funding Unsuccessful.
Trump Crunch – Trump Crunch is the unofficial cereal of Donald Trump. It features a cartoon caricature of himself on the box and comes with cereal! Funding Unsuccessful.
T.RUMP campaign bus – Art trumps Donald Trump – We bought Donald Trump's Iowa campaign bus on Craigslist. It's now a rolling art project against Trump's divisive rhetoric. Funding Unsuccessful.
"Trump Youth" Website & Armband- All HAIL TRUMP! – Donald Trump "supporters" need an appropriate armband for use at rallies. Production web org and bands for "Trump Youth." HAIL TRUMP!!! Funding Unsuccessful.
Donald Trump Idiot Song – Help me create a song for Donald Trump and put it on all radio stations across America!!! Funding Unsuccessful.
Donald TRUMPS Card Game. "Make America Fun Again" – Trump the Trump when you play Trumps with Trump! Introducing the first playable set of Trump cards, and yes, it's a real card game. Funding Unsuccessful.
Trump Bah Humug T-Shirt – Make a political statement this holiday season with a Trump "Bah Humbug" t-shirt. Funding Unsuccessful.
Running Away From Trump! – I'm Worried about the Future of this Country if Donald Trump can get Elected President. I Will Not stick around to find out if he Does! Funding Unsuccessful.
Trump R Giger – Art Contest: The best Portraits of Donald Trump in the style of HR GIger with cash awards for the 14 voted best by project backers. Funding Unsuccessful.
Tender Trump: One Romantic Evening – Whether you like Donald Trump or not, there's no denying his magnetic personality. For one woman, that charm proves intoxicating. Funding Unsuccessful.
The Billion Dollar Trump Burger – I've Created a Burger even Trump would approve of. Each topping accents a part of his personality. You've never had a Burger like this! Funding Unsuccessful.
Make Me look More Like The Donald! – I am a Donald Trump Impersonator and need a physical MAKEOVER to create a 2015 persona of Mr. Trump. Funding Unsuccessful.
Donald Trump Is Not Racist: I Can Prove It. – I am Black. The media is painting Mr. Trump as a racist, my documentary is about a difficult video project I did for him in 2007 #Trump Funding Unsuccessful.
Let's Build The Trump Wall – A model of Donald Trump's proposed America/Mexico wall, built with plastic bricks and, in all likelihood, paid for by you. Funding Unsuccessful
Donald Trump Presidential Stress Cube – A satire gift, the stress cube has original artwork, comes on a custom mahogany stand and has a funny exercise booklet. Funding Unsuccessful
Make America Great Again – We will be following Donald J. Trump Six months before the 2016 Presidential Election. Funding Unsuccessful
Send a Message! – Satire contains an element of truth. Donald Trump's statements are bizarre. Sarcastic bumper stickers and posters will be produced. Funding Unsuccessful

Trump Redux: Help us tell the real story about Donald Trump – We investigate claims, rumors and inconsistencies about the life of Presidential Candidate & Republican Party Leader Donald Trump. Funding Cancelled

Donald Trump Toilet Paper: Make America Poop Again! – This is gonna be YUUUGE! Trump's face on toilet paper? It'll be the biggest roll you've ever seen.Lets make America poop again! Funding Suspended




Have a crowdfunding offering you'd like to share? Submit an offering for consideration using our Submit a Tip form and we may share it on our site!

Sponsored Links by DQ Promote