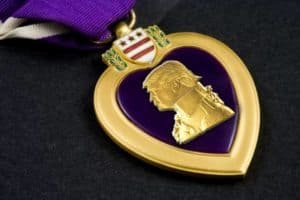 Donald Trump's unique and profound ability to offend so many people has somehow endeared himself to a good proportion of the electorate. It is hard to believe an individual who supported both Bill Clinton and Barack Obama in earlier elections has claimed the mantle of the GOP's Presidential candidate. It does not matter that sometimes he and Bernie Sanders, a socialist, have made similar policy statements and the Donald sounds more like a Liberal Democrate than Hillary does (at times).  Yes, life can be stranger than fiction. One of the Donald's more recent attempts to jam his foot down his mouth was when he stated;
"I always wanted to get the Purple Heart. This was much easier"
This eloquent statement came after a veteran gifted a medal he had actually earned. As we all know, getting a Purple Heart entails being injured in combat – so it was a bit odd that Trump sounded like he was fulfilling a life-long ambition to receive the medal. This desire comes after he dodged the Vietnam draft by using College deferments and claiming to have bad feet.  Yep. This is the guy who wants to hold the same office as Lincoln.
Well now some thoughtful chap named Cameron Kerr is attempting to help Trump to really earn a Purple Heart and he has launched a GoFundMe so Trump does not have to pay his own way.  The crowdfunding campaign has raised OVER $40,000 on a goal of $50,000.
Kerr, a veteran himself, stated;
"That being said, as a Purple Heart recipient [proof ] who earned one the old-fashioned way by returning from Afghanistan one leg lighter, I fully endorse his desire to earn one and would happily oblige his interest in doing so, by being one of the first to chip in to fly him to the conflict zone of his choosing. After all, you're never too old to follow your dreams."
Now satire aside, Kerr has decided to dedicate the funds to help Syrian Refugees after raising so much money to pay the Donald's way into combat.  According to the GoFundMe page;
"…ok, let's be serious. Super serious. We're not going to be able to help Donald realize his conveniently retroactive military fantasies, and based on precedent he could likely get a series of deferments to avoid going even if we tried. So instead, we're going to convert his toxic bigotry, ignorance, and callousness into something positive. As Michelle Obama said/as Melania Trump might say at some point in the future: "when they go low, we go high."
If you want to help out this GoFundMe charitable initiative use the hashtag #PurpleTrumpsOrange.
Meanwhile we can all go back to reading about Trump's dangerous Narcissistic personality disorder as he keeps offending just about everyone that glances his way…
…Oh, Reince Priebus, you know not what you have done.
Narcissistic personality disorder. Trump doesn't just have it, he defines it. #trumpdiagnosis https://t.co/2WegZrrlJ7

— Jeffrey Flier (@jflier) July 30, 2016
Sponsored Links by DQ Promote